So They Say: Robert Durst Talks Brooklyn Investments and Innocence
---
---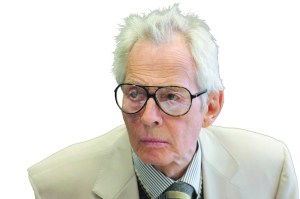 Durst family outcast Robert Durst's aberrant behavior surfaced again in July, when he allegedly urinated on a cash register and candy rack at a Houston CVS store.
"He wasn't arguing with anybody and he didn't seem agitated," a Houston police spokeswoman told The New York Post after the bizarre incident. "He just peed on the candy. Skittles, I think."
Mr. Durst, 71, has made headlines in the past for running from the law and, notoriously, for facing trial for murder. In 2001, he was arrested as a fugitive and admitted to killing his neighbor, Morris Black, in self-defense. He had dismembered Black's body and disposed of the remains in Galveston Bay. Mr. Durst's acquittal in 2003 came nearly 20 years after the unsolved disappearance of his wife, Kathleen McCormack, and a related "execution-style" murder in 1982. But his real estate investments seem unaffected by his troubled judgment in other areas. Earlier this year, he sold two Brooklyn buildings for $21.2 million—a venture where he doubled his investment in three years. (Mr. Durst's 2011 acquisitions of 250 Pacific Street and 234 Union Avenue in Brooklyn were financed by New York Community Bank and refinanced by Customers Bank in 2013, public records show).
Mortgage Observer looks back at some odd quotes and curious moments of silence from the Texas millionaire.
"I'd like to talk to you about how great the properties are … but now is not the time. … I've got a lot of s— going on right now, and I'm not going to talk about it with a reporter."
—Phone conversation with DNAinfo.com about Brooklyn real estate buys (August 2013)
"Parts made me cry.
"The movie, I did think, is as reasonably accurate as anything out there … a whole lot more accurate than those endless TV documentaries. And this doesn't pretend to be a documentary."
—Remarks to The New York Times about the movie All Good Things, a fictional account of Mr. Durst's life (November 2010)
"Close. Not as good as the real thing."
—Remarks to The New York Times about Ryan Gosling, who played the fictional version of Mr. Durst in All Good Things (November 2010)
"I didn't carve up the guy. I dismembered a corpse."
—Remarks to The New York Times about the murder of 71-year-old Morris Black (November 2010)
[silence]
—Response to a KHOU-TV camera crew about the CVS urination incident (July 2014)