Sign of the Season: Halloween Stores Pop-Up
---
---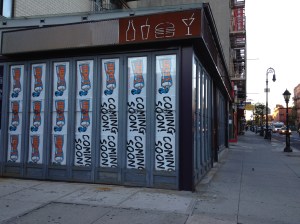 Fashion, cosmetics and beauty products retailer Ricky's NYC will open a 4,500-square-foot Halloween-themed pop-up shop this week in Thor Equities' retail space at 209 Smith Street in Cobble Hill, Brooklyn as part of a rollout of 25 temporary Halloween costume, makeup and prop stores in Manhattan and Brooklyn.
While some retailers devote their entire business model to seasonal stores that often shift from Halloween to the December holidays as the fall turns to winter, Rickey's will be using the space for another well-established pop-up purpose: to test the Restaurant Row market on a street among brownstone neighborhoods and Downtown Brooklyn.
"Seeing commitments from Lululemon, Rag & Bone, and Blue Bottle have convinced us that Smith Street can be a home for national retail tenants, and we are currently testing the location for the Halloween season," said Richard Parrott, president of Ricky's NYC, in an email. "Thor Equities, owner of the retail space in question, has been a phenomenal partner in regards to introducing us to the neighborhood and bringing forth this excellent opportunity."
Mr. Parrott declined to state asking rents or length of the lease, and officials with Thor, whose broker Glenn Vogel represents the landlord at the property, according to the company's website, didn't immediately respond to requests for comment.
But stores–like the one where the 25-year-old fashion and cosmetics retailer will sell "both family-friendly Halloween costumes and accessories, and the sexier items Ricky's is known for throughout NYC," Mr. Parrott said–also allow landlords to book a tenant for vacant space.
The leases usually allow the stores to take occupancy after Labor Day until a few days after the spooky day of fun, or in January if the store transitions to the winter holidays, retail experts say. The stores often pay more favorable rents than traditional leases after retailers zero in a zip code with notable catalog or online sales and landlords add a tenant who will help their bottom line, said Faith Hope Consolo, chairman of the retail group at Douglas Elliman.
"Even though these stores are by definition temporary, they still require time to set up and tear down, because quality is important," Ms. Consolo, who recently arranged a non-Halloween pop-up lease in Harlem for designer Victor de Sousa, wrote in an email. "We're not talking tables and a manual cash register. These pop-ups are opened by sophisticated companies who have an image to present. This is a great opportunity for a landlord who's between long-term leases and would like to monetize the space for a short term, or for a landlord who's trying to persuade a tenant that his or her location is the right one for a permanent presence."
Halloween stores like Ricky's and Spencer's Gifts' Spirit Halloween line represent a growing trend of seasonal renters who are capable of providing value to property owners while the retailers weigh growing their brands' footprints, brokers say. Spencer's pays Spirit Halloween's rents up front, spruces up spaces for potential future tenants and often serve as the precursor to a later Spencer's store, said Brendan Gotch, a director of retail leasing for Greenwich Village, East Village and Noho at Massey Knakal Realty Services.
"The Halloween pop-up craze is the first, but I can only imagine, not the last of seasonal pop-up waves," Mr. Gotch said in an email. "It's surprising to me that we don't see more holiday season pop-ups than we already do.  It's an interesting, exciting trend."