Report: Manhattan Commercial Sales Dwarf Other Markets
---
---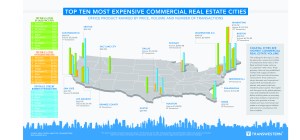 Sales of Manhattan commercial buildings dwarfed those of other U.S. cities in the first seven months of the year, with Manhattan exceeding its nearest competitors in other large metropolitan markets by $6.1 billion in total sales volume and and $222 per square foot in sales price, according to a report released yesterday by Transwestern.
The survey with data the firm crunched alongside Real Capital Analytics found that Manhattan stayed atop the nation's strongest urban core investment sales markets, producing 107 transactions for $11.2 billion in total sales volume at average rates of $770 per square foot in the first half of 2014 after its sales paced those of the country last year as well, said Transwestern researcher Palak Raval.
"Manhattan is the financial capital not only of the U.S., but it's a major global player as well," Ms. Raval wrote in an email. "All the large banks, REITs and private equity players are based out of Manhattan. There is constant demand of office space here because all the major companies across the world would at least have a branch office in Manhattan. Also, it now has a diverse mix of tenants from industries such as finance, tech and media, unlike other cities."
Manhattan, the only borough included in the tracking of sales higher than $2.5 million in non-suburban metropolitan areas, trailed Los Angeles in the overall number of transactions, but its totals far outpaced the volumes of sales in LA ($5.1 billion), San Francisco ($5.0 billion) and Boston ($4.1 billion) and the sales rates of Washington, DC ($548 per square foot), San Francisco ($464 per square foot) and San Jose ($412 per square foot).
The $1.5 billion sale of 5 Times Square and separate pending deals for a $900 million purchase at 150 East 42nd Street and a $595 million buy at 530 Fifth Avenue represent the three largest transactions of the year from the the beginning of January to the end of July, according to sales data provided by Transwestern.