Report: Alterations and Renovations Rise in 2013
---
---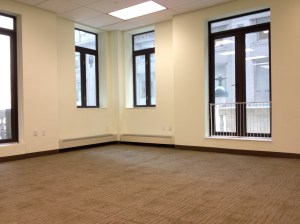 In another show of the strength of the city's commercial real estate market, private and public landlords implemented alterations and renovations worth $5.7 billion in 2013, a five percent rise over the 2012 total and a 25 percent upsurge over the 2011 sum, according to a report released today by the New York Building Congress.
City property owners have already initiated $3.6 billion worth of alterations and renovations in the first half of 2014, the report based on McGraw Hill Construction Dodge data found, showing that not all of the city's office construction shows up in the glassy towers planned for large scale new developments, said Richard T. Anderson, the president of the influential construction industry stakeholder organization.
"Office A&R is a massive yet largely invisible segment of the New York City construction market," said Mr. Anderson in a prepared statement. "While great attention has justifiably been paid to the new office towers rising at the World Trade Center and Hudson Yards, it's important to note that practically three-fourths of all office construction work since 2009 has been devoted to alteration and renovation of New York's vast supply of existing office space."
Office facelifts jumped by 66 percent in 2013, from $1.2 billion in construction starts in 2012 to $2.1 billion in 2013, the report found. The whole commercial segment of the 2013 renovation construction market, which also includes $478 million in hotel interior construction and $442 million in retail construction, constituted 53 percent of new alterations and renovations last year, according to the report. But it's the office renovations that demonstrate the latest trends, Mr. Anderson said.
"The trend among office tenants, especially in such emerging sectors as technology, advertising, media, design, and the Internet, is to create spaces that are far more efficient, flexible, and collaborative, and to devote considerably less square feet per worker than previously allotted," Mr. Anderson said in a prepared statement. "It is this new office paradigm that is motivating landlords and businesses to invest heavily in their existing spaces in order to remain competitive with the new spaces that are being added to the office market."