North Carolina Mall Loan Hits Delinquency Status for First Time
---
---
A $100 million securitized J.P. Morgan loan on Independence Mall in Wilmington, N.C., was reported as 30 days delinquent, according to September servicer data obtained and provided by Trepp. The borrower entity is listed in the deal prospectus as Centro Independence LLC.
Sears, Dillard's, Belk and JCPenney anchor the one million-square-foot regional shopping center at 3500 Oleander Drive, property records show. The first three retailers own their parcels.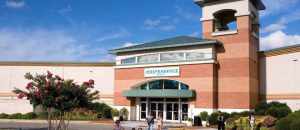 Nearly 500,000 square feet of space serves as collateral for the CMBS loan, which includes the JCPenney parcel. The loan, in turn, makes up nearly 5 percent of the collateral behind JPMCC 2006-CB17, according to Trepp. In 2006, the collateral was appraised for $172 million.
"Servicer watchlist notes indicate that the borrower was anticipating cashflow shortfalls in August and September," the Trepp report states. "The loan has had disappointing financials in recent years, with DSCR registering 0.80x for the first half of 2014 after posting 0.80x in 2013 and 0.88x in 2012."
However, the loan is not yet with the special servicer, despite its delinquency status. The watchlist notes show that the borrower flagged the property's shortfalls in advance and a result the note was not sent to the special servicer.
"September comments indicate that if the borrower fails to bring the loan current by October 1st, the loan will likely be transferred to special servicing for payment default," according to the Trepp report. "The delinquency pushed the percentage of loans in the CB17 deal that are late up to almost 30 percent."
The borrower entity, Centro Independence, is 71.5 percent owned by Centro Watt America REIT 10, 15 percent owned by Hugh McRae II, 7.5 percent owned by the Oleander Company and 5.9 percent owned by Westfield Group, according to the deal prospectus.
Centro Watt, founded in 2003, is a partnership between Watt Commercial Properties, one of the largest owners, developers and managers of commercial real estate in the United States, and Centro Properties Group, one of Australia's leading retail property owners and managers.
The partnership owns and manages a portfolio of more than 17 million square feet of community retail centers, which are located primarily on the west coast and in the southeastern and northeastern United States.
Westfield Group's real estate portfolio consists of over 130 shopping centers in four countries.
Independence Mall, the only enclosed shopping mall in Wilmington, N.C., was built in 1979 and expanded and renovated in 2001. The last reported occupancy was 86 percent.