NGKF Shows Off 1251 Avenue of the Americas
---
---
Fresh off of closing on a law firm lease at the Rockefeller Center area building once known as the headquarters of Exxon, Newmark Grubb Knight Frank and Mitsui Fudosan invited brokers to view 1251 Avenue of the Americas and visualize filling the five available floors with new tenants.
The Japan-based landlord and its longtime representatives from NGKF showcased the 100-yard-long, column-free space available on the 51st floor of the 2.3-million-square-foot structure with breathtaking views in order to woo prospective tenants.
"This event is not only to showcase the space, but it's also a way to connect with you in a meaningful way," Christopher Perez, senior vice president of asset management and leasing at Mitsui Fudosan America, told the hundreds of brokers who attended. "We're very much in deal mode."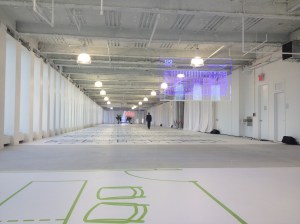 The building on Avenue of the Americas between West 49th and West 50th Streets displayed potential floor plans of collaborative or trading-floor oriented office space with painted potential setups on the floor and fluorescent-light-enhanced maps.
But the building with asking rents ranging from the low $100s per square foot at the top of the skyscraper to $85 per square foot on lower floors also charms potential tenants with a virtual golf video game allowing visitors to tee off into a projection screen, said David Falk, president of NGKF's New York tri-state region.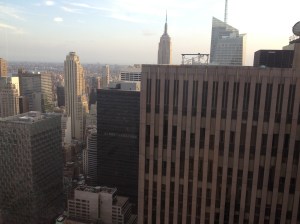 "Ownership said, 'How do we get people to spend more time here than other buildings?'" Mr. Falk said of the amusement that had partygoers standing in line to play last night. "So people spend time here, they get educated here. They learn, they remember this building."