Flatiron Building to be Framed by Light Installation During Holidays
---
---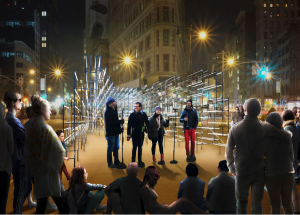 A seasonal art installation is scheduled to have the Flatiron District aglow this winter.
"New York Light" by Brooklyn-based architecture firm INABA, in collaboration with Tillotson Design Associates, Ben Gal Fiero, and Buro Happold, will be displayed in front of the iconic Flatiron Building as the winner of the first-ever Flatiron Public Plaza Holiday Design Competition.
The competition was first announced in July, as Commercial Observer previously reported, and was organized by the Flatiron/23rd Street Partnership and Van Alen Institute as part of the 23 Days of Flatiron. This initiative, in its third year, promotes shopping and dining in the area during the holidays and includes public programming.
Seven artists and architecture firms, including EFGH Architectural Studio, e+i studio, INABA, Chris Jordan/Moey, RSVP Architecture Studio, SCAPE/Landscape Architecture and Stereotank, were invited to submit designs for a temporary installation for the season. The proposals were then reviewed by a panel of jurors.
"'New York Light' was just so popular among the jury that selected it," said Jennifer Brown, the executive director of the Flatiron/23rd Street Partnership. "We think it is a departure from what we've done the past two years. It's going to be really beautiful during the day and at night and we think that it complements and reflects the iconic space where it's located."
Jeffrey Inaba, the principal of the winning firm, said his interactive installation is inspired by the building itself.
"[The installation] is triangular in plan, and it's made out of a metal frame structure which you can go inside," he said. "You can walk around it and in it."
The structure frames a view of the sky, and in the center of that view is the Flatiron Building. It also includes hanging mirror panels that present new vantage points from inside, and LED lights that enliven the space.
"We worked with light because light is such an important symbol during the holidays for all major religions," Mr. Inaba said. "The quality of light that the piece reflects off of the reflective metal will hopefully change day-to-day depending on the weather."
The installation is designed to be inclusive, attractive to both out-of-towners who are in for the holidays and those that live and work in the Flatiron District.
Mr. Inaba said his team was "really pleased and super excited" to win the competition.
His firm has experience with public art, having created a pop-up restaurant for 2010 Whitney Biennial operated by celebrity chef Danny Meyer and an interactive information kiosk for the 2011 Festival of Ideas for the New City.
Ms. Brown expressed hope that the competition would become an annual occurrence for her organization and the Van Alen Institute.
"We're going to see how this year goes, but our goal would be that this becomes a new annual tradition," she said. "There would be a new installation each year and a new competition each year."