Durst Organization Pushes Ferry Near New Queens Acquisition
---
---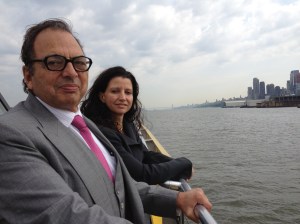 A week after news broke that the Durst Organization paid over $100 million for a 90 percent stake in the 2,404-unit Hallets Point project, officials at the company that owns New York Water Taxi joined a growing chorus calling for a new ferry route to Manhattan from Astoria. Durst was focused on bringing a station to a section of the Astoria waterfront that's home to the company's new acquisition as well as a public housing complex and a proposed 1,723-unit development that's now under consideration at the City Council.
A new route servicing the Queens waterfront would provide much-needed public transportation to the area around the rising complex where Durst bought a majority stake from Lincoln Equities Group for its first foray into the outer-borough residential market, said Helena Rose Durst, the vice president of the Durst Organization and the president of New York Water Taxi.
"Ferries are a pivotal component of the transportation infrastructure for our project and the entire Halletts Peninsula," Ms. Durst said in a statement, using the traditional name for the area that boasted a ferry to Manhattan from the late 18th century until the 1930s.
While East River currents would require a new ferry terminal to sit adjacent to the proposed Astoria Cove site that's upstream from the seven-building Hallets Point development, New York Water Taxi officials previously submitted testimony in support of the potential new ferry during a public hearing about Astoria Cove in August at the City Planning Commission.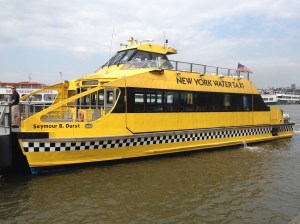 "With four out of the five boroughs being islands and the fifth borough being a peninsula, water ferry transportation makes the most sense for helping connect these newly developed waterfronts and to get people around the city," New York Water Taxi CEO Brian McCabe said in written testimony. "In the case of Astoria Cove, the nearest subway stop is more than twenty blocks away and no bus service exists at this time."
After local Council Member Costa Constantinides, Queens Borough President Melinda Katz and members of Queens Community Board 1 voiced support for the ferries during the Uniform Land Use Review Procedure, City Planning Chairman Carl Weisbrod noted today before the commission approved the rezoning that the city is "in very advanced discussions" about a new feasibility study of the ferries before the Council votes on Astoria Cove.
The two new projects carry the potential to "create a new destination in which to live, work and recreate," he added. "It will benefit the broader neighborhood, the borough of Queens and, indeed, the city of New York."
The City Council commissioned a $500,000 ferry feasibility study as part of the Hallets Point rezoning last year. Representatives for the Astoria Cove development team that includes Alma Realty have noted the developers' plans include a location for a ferry terminal if the city extends service there.