De Blasio's Climate Plan to Impact City's Real Estate
---
---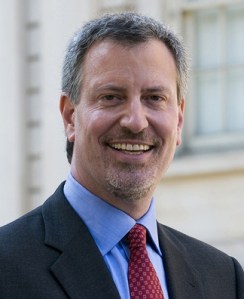 New York City Mayor Bill de Blasio announced an ambitious plan today that would slash Gotham's greenhouse gas emissions primarily by retrofitting public and private buildings. The plan, One City, Built to Last: Transforming New York City's Buildings for a Low-Carbon Future, would ensure New York's carbon emissions were reduced by 80 percent over 2005 levels by 2050.
"By retrofitting all of our public buildings with significant energy use in the next ten years, we're leading by example," Mr. de Blasio said in a prepared statement. "By partnering with the private sector, we'll reduce emissions and improve efficiency while generating billions in savings and creating thousands of jobs for New Yorkers who need it most."
A staggering percentage, approximately three quarters, of the city's greenhouse gas output stems from energy expended to heat, cool and power its buildings.
A key component of Mr. de Blasio's proposal includes investing in high-value efficiency upgrades in city buildings, having upgraded all city-owned structures by 2025. There will also be an increase in solar and renewable energy deployed on city assets; it is estimated that over 300 city buildings will include solar power within the next 10 years.
There is also a tremendous emphasis on increasing incentives for private buildings to reduce their energy outputs. City programs will attempt to catalyze voluntary reductions in output. Buildings over 25,000 square feet will be required to measure and disclose their annual energy use; today, only buildings over 50,000 square feet are required to do so. A "retrofit accelerator" program will also try to expedite the retrofitting of the city's roughly 20,000 private buildings.
The announcement of the proposal came one day after the city hosted the People's Climate March, a mammoth event drawing hundreds of thousands of protesters to midtown Manhattan speaking out against government inaction to the climate crisis.
Leaders in the real estate community have already issued statements on the mayor's climate agenda. Rob Speyer, the president and co-chief executive officer of Tishman Speyer and the chair of the Real Estate Board of New York, said that "increasing energy efficiency and reducing greenhouse gas emissions will help solidify New York's standing as the world's model of sustainability. Mr. de Blasio should be commended for his leadership, making New York the largest City to ever make this ambitious commitment, hopefully leading the way for other cities around the world to follow."
Bill Rudin, chairman of the Association for a Better New York and vice chairman and CEO of Rudin Management Company, also lauded the proposal.
"We applaud Mayor de Blasio's aggressive goals to reduce greenhouse gas emissions in New York and set us on a path to energy independence," Mr. Rudin said. "We are eager to work with the Administration to develop a citywide retrofit plan that balances significant capital investment with the need to improve efficiency and utilize alternative fuel sources to ensure a cleaner New York."