CBRE Ultramarathoner to Run for Cancer Research
---
---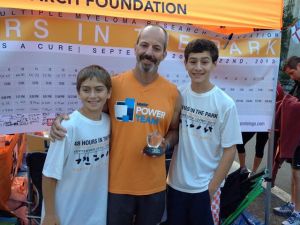 CBRE Senior Vice President Eric Gelber will loop Central Park 33 times to run 200 miles and raise $200,000 for research on an incurable blood cancer on Sept. 19-21.
The run to generate resources for the Multiple Myeloma Research Foundation by the 47-year-old retail services broker represents his latest annual athletic feat in support of a cause with a personal connection to him and his wife Tani.
"A friend of ours had multiple myeloma and she passed away in 2012, so I was doing it to support her," said Mr. Gelber of the mind-boggling runs for charity he's been pulling off in the Catskill Mountains and Central Park since 2009. "I found that if I ran further, people would support it more."
The veteran of the Badwater 135 Ultramarathon in California's Death Valley will attempt his longest run to date after running 167 miles in Central Park last year. Mr. Gelber's efforts have raised over $300,000 for the nonprofit research foundation, but the longer haul this year that's estimated to last more than 50 hours just matches the norm for the real estate industry, he said.
"We all work together to do deals and do business," said Mr. Gelber. "But when there are good causes to support, we all get together to support those causes."
One of Mr. Gelber's clients, Academia Barilla Restaurants, exemplifies that support. The Italian eatery that opened its first location at 1290 Avenue of the Americas last year under Mr. Gelber's auspices will provide free food and drinks to Mr. Gelber and his supporters at the park during the three-day event later this month, said Academia Barilla CEO Stefano Albano.
"It's about making sure Eric is supported and as much money as possible is raised," Mr. Albano said.