Real Estate Legend Arthur G. Cohen Passes at 84
---
---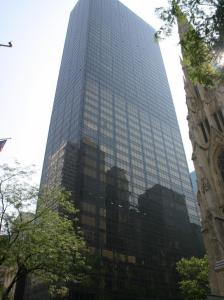 Legendary real estate developer Arthur G. Cohen, a magnate who formed the Arlen Realty and Development Corporation, passed away on Aug. 9 at his family's home in Kings Point, N.Y., The New York Times reported on Friday.
Mr. Cohen bought and renovated 15,000 apartment units in the city, formed part of the team behind the mixed-use One Worldwide Plaza on the former site of Madison Square Garden, and combined with Aristotle Onassis on the 51-story Olympic Tower adjacent to St. Patrick's Cathedral.
"There was a time when every deal had Arthur Cohen," Andrew Albstein, an attorney who once collaborated with Mr. Cohen, told the New York Observer in 2011. "If there was a deal to be done in New York, you had to go through him. He could do anything … He was in construction, commercial, residential, financing—anything and everything."
Arlen Realty controlled $1.7 billion–or $7.5 billion at current rates–worth of assets in 39 states at its zenith, the Times story says, and Mr. Cohen helped lead development in previously-forgotten or languishing areas like Times Square, Manhattan's Far West Side and the industrial waterfront of Dumbo, Brooklyn.
But when Mr. Cohen's father-in-law, Charles Bassine, merged his company with Mr. Cohen's to start Arlen in 1971, Mr. Bassine confronted charges of nepotism.
"I cordially wish you all such a son-in-law," Mr. Bassine told a shareholders meeting, according to the Times. "He's a better man than I am."