MTA Shrinks, Renews Lease Near Penn Station
---
---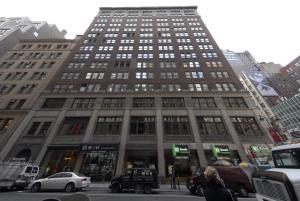 The Metropolitan Transportation Authority is consolidating with a renewal of 34,000 square feet, or just half of its existing space, at 469 Seventh Avenue between 35th and 36th Streets.
The transaction includes the entire 11th and 14th floors in the 16-story, 270,000-square-foot building, The New York Post first reported. Marty Meyer, one of the building owners, told Commercial Observer the MTA is reducing its space from four floors to two. 
"This is the East Side Access engineers department," Mr. Meyer said. "They don't need as many engineers working because the project's moving along. The project should be finished in seven to nine years from now."
The MTA's East Side Access Project will connect the Long Island line from Queens to Grand Central Terminal.
The MTA signed its first lease in the building for 68,000 square feet spanning the 11th, 14th, 15th and 16th floors in August 1999, seven years before Mr. Meyer and his son, Eric Meyer, both of Colliers International, bought the building with Dan Shavolian of Foremost Real Estate, Mr. Meyer said. It was a 10-year lease expiring in 2009, and then the agency signed a five-year lease renewal, which terminates at the end of this year. The new lease starts January 2015.
Messrs. Meyer represented themselves in last week's deal and Jodi Roberts and Josh Kuriloff of Cushman & Wakefield represented the MTA. Neither Cushman broker immediately responded to a request for comment.
"We are very happy to have them as a continued tenant in the building," Eric Meyer said.
The asking rent in the building is in the $50s-per-square-foot range, Marty said, and the building is 85 percent occupied.
As Commercial Observer previously reported, the New York Police Department signed a 15-year relocation lease at 469 Seventh Avenue for administrative offices and meeting rooms for the Manhattan South Traffic Enforcement division. Marty said the department will be moving into 66,800 square feet, which includes the ground, second through fourth floors and part of the sixth floor, next month.
Essentially, he said, "it's a building within a building."
The NYPD will have its own entrance on 36th Street as well as an internal staircase.