Meet the City's Top 10 Boutique Brokerages
---
---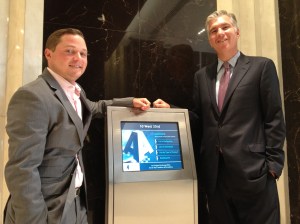 While the largest New York City real estate companies often command the biggest headlines, many firms with fewer than 10 brokers make big deals as well. Commercial Observer breaks down 10 of the smaller firms with large footprints in the city's thriving commercial market.
Adams & Co.
Full-service real estate firm Adams & Co. boasts an outsized impact on the city's real estate industry, with a 94-year history and Manhattan square footage listings in the millions.
The company, with only six brokers and four principals, on its website displays 32 prime properties spread out south of Times Square in teeming areas like the Garment District and Chelsea. And the company's footprint in no way corresponds to its small staff, the site says. (Representatives for the firm were not available to comment.)
"Large enough to have authority, yet intimate enough to ensure personal attention, it is an organization in which there is a principal at the helm of every deal, every negotiation, and every transaction," the site says. "As specialists in the many distinct markets of Manhattan, Adams & Company's comprehensive knowledge of each area's individual properties, businesses, and tenant trends provides a wide range of benefits to our clients."
With an impressive array of retail tenants like the 40/40 Club (co-owned by Jay-Z) and Apple Seeds, fashion showroom clients like Perry Ellis and Tommy Bahama and office tenants like Citi and the New York Jets, the company led by David Levy is thriving in realms usually associated with firms that have hundreds of employees.
Adams brokers represented both the tenant and the landlord in new leases and renewals for child clothing designer Babyfair in a showroom at Adams' Childrenswear Center at 34 West 33rd Street, financial services firm Jacobs Asset Management at 11 East 26th Street and apparel business GMC Mercantile Corp. at 231 West 39th Street in deals Commercial Observer reported over the past six weeks alone.—Tobias Salinger
Winslow & Company

When founder and President Joshua Winslow started Winslow & Company in 2000, the former office building project manager planned to create a boutique firm staffed with agents familiar with all types of industries and even all types of languages.
But Mr. Winslow really prefers to keep quiet. During a phone interview from the firm's headquarters in the Garment District, Mr. Winslow cited privacy concerns and confidentiality agreements to explain why the company doesn't show up in a lot of media write-ups. He also refrained from talking up any recent transactions, although he did say the company represents many tech and financial firms.
He also divulged that, had Commercial Observer waited a couple of weeks on this feature, his firm that specializes in tenant representation would have ballooned beyond the ranking's criteria of 10 or fewer brokers. But, for now at least, the firm fits the bill.
"We really kind of cover the gamut—the whole city," said Mr. Winslow. "We have 10 different agents and they all have different things that they do, which allows us to be a boutique firm."
The company strives to serve clients hailing from abroad who want to make the overseas transition, with brokers fluent in languages as diverse as Swedish, French, Korean, Italian and Chinese, Mr. Winslow said.
"We look at New York as being a hub of all this international business," he said. "Whether it's coming from the East or West, we segue with all these different international businesses and we're able to communicate. It's difficult enough to go through the [leasing] process when you understand the language, but it becomes that much more difficult when you don't."—T.S.
PD Properties
While it planted modest roots in Koreatown three years ago and still has its office there, PD Properties has since spread its wings.
"We've come a long way," said Elad Dror, the president of the firm. "At first we were only known as a Korean brokerage."
The connection to that immigrant community makes sense in part because Managing Director Tony Park is Korean. The ties have led to deals including one last month in which PD Properties represented the South Korean franchise bakery Paris Baguette in three leases. They included one in Downtown Brooklyn that marked the chain's first Kings County location.
"We have a big niche of foreign clients, foreigners that live here," said Mr. Dror, whose last initial forms the "D" in PD Properties (the P is for Mr. Park). "We focus on a lot of Koreans, Chinese, Italians and Israelis."
PD's eight active brokers specialize in retail deals and investment sales.
The company is currently working on a lease for The Face Shop, a Korean cosmetics company, outside of Koreatown. PD Properties recently repped DMG Investments, a sub-entity of DoThink Holding Group, when it inked a 10-year deal at 100 Wall Street. And in June, the firm signed Essen Slow Fast Food at 695 Avenue of the Americas.
Indeed, PD Properties excels at restaurant leases. It represented farm-to-table eatery Treehaus late last year in its lease of 14,292 square feet at 460 West 42nd Street. Around the same time, take-out lunch specialist Sarah's Kitchen took 9,200 square feet at 270 Madison Avenue. The firm represented Sarah's Kitchen in that 13-year deal.—Lauren Elkies Schram
Manhattan Commercial Realty

Manhattan Commercial Realty brings a unique concept to the business of commercial real estate leasing—the brokerage's client base is 90 percent tenant, the chairman and principal Robert Bielsky told Commercial Observer.
Founded in 1982 by Mr. Bielsky, MCR is currently comprised of 10 brokers. And with his 33 years of experience dealing with tenants, Mr. Bielsky said it has become an area of expertise.
MCR has negotiated over $1 billion in transactions, according to its own numbers, and has represented over 5,000 clients in New York and throughout the country.
"Being a small company, we survived all the wars of the realty business, where a lot of the other small companies closed shop," he said.
MCR has recently represented tenants including top talent management company the Lasher Group, Big Bus Tours New York and the tech startup Breather.
The Lasher Group signed a lease this month for 1,238 square feet of space at 1133 Avenue of the Americas, Mr. Bielsky said. Asking rent for the space, which will be occupied in September, was in the $70s per square foot.
In March, Big Bus Tours New York signed for 10,000 square feet of industrial warehouse space at 202 Plymouth Street in Brooklyn, along with 5,000 square feet at 721 Seventh Avenue in Manhattan, he said.
MCR also recently secured four new leases in Soho, Midtown West and the Flatiron District for Breather, which provides temporary office spaces for workers. Broker Chandra Henderson led the deals.
"We're excited to be a part of emerging markets and new ways of doing business," said Mr. Bielsky in a prepared statement regarding the Breather leases. MCR "looks forward" to working with additional tech startups, the release further stated.—Jennifer Henderson
Zelnik & Company

Zelnik & Company has a client roster including landlords Muss Development, Madison Capital, the Gottlieb estate and BLDG Management as well as tenants like Juice Press, City Sports, Dos Toros Taqueria, BRGR and JPMorgan Chase & Co.
The firm was involved in the high-profile deal that brought beloved suburban staple Dairy Queen to Manhattan, at 54 West 14th Street, in May. Adam Langer of Zelnik & Company represented the landlord in that transaction. A couple of months earlier, Zelnik & Company Founder and Chief Executive Officer Cory Zelnik and broker Adam Weinblatt represented the landlord in the expansion of the barbecue restaurant Mighty Quinn's at 75 Greenwich Avenue.
Mr. Zelnik has been in the real estate game since the fall of 1986. Following a three-year stint as a real estate representative at CVS Pharmacy, Winick Realty Group recruited him to manage its Duane Reade account. He became a partner and president of the firm. In 2006, he opened Zelnik & Company. The firm, which has a six-broker team including its owner, focuses exclusively on retail.
"In 1986 it was more about opportunity than anything else," Mr. Zelnik said. "Since then I just stayed focused on the retail platform."—L.E.S.
Bertwood Realty 

Bertrand de Soultrait was working closely with Chase Welles at SCG Retail—they flew together to Cannes for the annual European retail leasing event MAPIC TK—when he cemented his relationships with international clients. Those connections helped inspire him to launch his own firm, Bertwood Realty, about 10 months ago.
With a team of three led by Mr. de Soultrait, Bertwood Realty focuses on European brands and other international tenants. Mr. de Soultrait said he is bringing on board a third broker in October.
The majority of the firm's deals, which are primarily in the retail sector, are in the 500- to 3,000-square-foot range. Last week, Commercial Observer reported that Mr. de Soultrait represented French pastry shop Aux Merveilleux in its first U.S. lease, at 37-41 Eighth Avenue. That space is 450 square feet. The firm also does large showroom deals.
Bertwood exclusively represents the DANNIJO jewelry line, which is currently seeking a small retail space in Manhattan; Carré d'artistes, which is looking for other locations after Bertwood Realty secured a lease for its gallery on Bleecker Street; and the Saint James fashion line, which it also placed on Bleecker Street.
To complete some of its deals with French retailers, Bertwood Realty forged a partnership with "a good brokerage in Paris," Mr. de Soultrait said.
Despite its focus on leasing, the firm hopes to "go after investment sales down the road," the owner said, and a couple of weeks ago, he sold a West Harlem one-family townhouse for $3.1 million.—L.E.S.
Ellman Realty Advisors

October will mark the 20th anniversary of Ellman Realty Advisors, and the firm of five to 10 employees founded by Marc O. Ellman now lists more than 100 clients in multiple industries on its website. The company bio for the Stuyvesant High School alum and onetime real estate professor explains why he turned down offers from some of the largest real estate firms in the city to start his own firm after 10 years in the business.
The bio says Mr. Ellman "realized he could more fully focus [on] and respond to the needs of the tenants he represented by forming his firm, rather than remaining within the regimented corporate structure of a larger real estate company."
Despite its small size, Ellman represents a broad array of clients including online events hub Meetup.com, data-based marketing leader Madison Logic, social services nonprofit Greenwich House and big time music festival operator Superfly Presents. Mr. Ellman has also worked on behalf of major landlords at 126 Fifth Avenue, 166 Fifth Avenue and 333 Park Avenue South.
"We specialize in office and retail leasing, primarily tenant rep work with tech, TAMI, and public relations firms, as well as non-profit and entertainment [sector tenants]," Mr. Ellman said in an email. "Our expertise is Midtown South, although, given prices there as of late, we've been migrating as needed to Midtown, Lower Manhattan and Brooklyn."
Mr. Ellman reveals something of his approach in the "jobs" section of the company's site aimed at potential applicants.
"The service we sell is ourselves!" the site says. "People and their organizations rely on us to provide reliable, honest and qualified expert advice for one of the most important business decisions they will make."–T.S.
Cast Iron Real Estate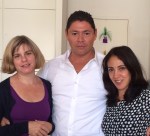 David Barreto, Kim Skarvelis and Beth Chase founded Soho-based Cast Iron Real Estate in 1999 with an understanding that they would be underdogs in a business filled with marquee names and a hope they could create a work environment different from the tension-filled, competitive boiler rooms where Mr. Barreto had broken into the real estate business. So far, the arrangement has worked out well, Mr. Barreto said.
"We're just diligent," Mr. Barreto said of his firm of the brokers and two agents. "We're always following up and we hold everyone in the company accountable." He added of his longtime partners, "Kim and Beth—they're like family."
Mr. Barreto took exception to the office rivalries and fixation on the bottom line at other firms in the beginning of his 22-year career. And he strived to create a different atmosphere at the company that he and two friends just getting into the business at the time started.
"It's very cutthroat in this industry and you have a lot of snakes in the grass," said Mr. Barreto. "[Here,] it's not about the dollar bills; it's not about the commissions."
The three brokers share all the duties in the office, working in partnership with companies like Thor Equities and The Related Companies as well as small single-building owners. The company represented Danish jewelry and homeware company Georg Jensen in the recent relocation of its U.S. corporate office. Cast Iron also helped Japanese retailer MUJI find its first U.S. location and brought jewelry designer John Hardy to a penthouse in the Starrett-Lehigh Building overlooking the Hudson River. The firm's commercial, residential and building sales portfolios have netted $150 million worth of transactions so far, Mr. Barreto said.
"I don't have an ego, nobody in my office does," Mr. Barreto said. "At the end of the day, as I remember a broker once told me, it's just deal flow."—T.S. 
Kaplon Belo
Kaplon Belo Affiliates specializes in commercial and industrial sales and leases in two of the city's outer boroughs. The Long Island City-based brokerage is comprised of two partners, Richard Kaplon and John Belo, along with a six-person broker and sales team, and has listings in Brooklyn and Queens, according to the company's website.
The brokerage has been in operation for 35 years, with a focus on properties like "warehouses, garages and vacant land."
The firm's Matthew Kaplon and Eric Hnatov recently brokered the $2.57 million sale of 38-60 13th Street in Long Island City for both buyer and the seller, Yip Brothers Realty, Inc., according to a June CoStar article. The sales price for the three-story warehouse equated to $342 per square foot.
A sampling of the brokerage's current listings includes a .11-acre residential development site at 2-21 27th Avenue in Astoria with an asking price of $2.95 million, a 58,000-square-foot warehouse at 513 Irving Avenue for rent for $14 per square feet per year and a 17,000-square-foot industrial space at 140 32nd Street with negotiable rent. Both rentals are located in Brooklyn.
Mr. Belo is listed as a member of the Board of Directors for the LIC Partnership, which promotes economic development in the area.
Messrs. Kaplon and Belo did not immediately respond to requests for comment on the brokerage or recent deals.—J.H.
Scopa CRE

The 20-year-old Scopa CRE, with a three-person team working out of 102 Madison Avenue and an office outside of White Plains, is a full-service brokerage headed by President Paul Spiegel.
The firm over the last six to eight months clocked 250,000 square feet of global office leases on the tenant representative side, Mr. Siegel, a founding partner, said before declining to elaborate on the transactions.
"It's kinda like we're the anti-marketers," he said. In terms of global office leases, "we did hundreds of thousands of feet in China last year. We recently completed a deal in Germany for close to 100,000 square feet."
The firm represents tenants and landlords. "We're generalists," Mr. Spiegel said. "We believe you should know who you're representing. And because we're small we don't have conflicts of interest."
In 2012, Mr. Spiegel co-represented Charles Schwab & Co. in a long-term lease for 6,200 square feet on the ground floor at 200 East 79th Street. Scopa is still active with Charles Schwab.
As Commercial Observer reported last month, Mr. Spiegel represented the nonprofit research organization Families & Work Institute in its 4,227-square-foot lease on the 10th floor of 245 Fifth Avenue just north of Madison Square Park.
Perhaps most notably, Mr. Spiegel is the asset adviser to the owner of 650 Fifth Avenue, which at late last year completed a 49-year lease to a joint venture of SL Green Realty and Jeff Sutton for the retail portion of the Midtown building.—L.E.S.