Lenny's Unveils 'Lenwich by Lenny's' Name at New Locations
---
---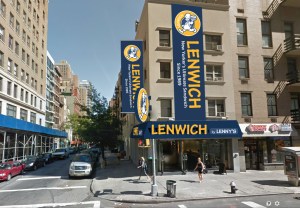 Unable to trademark "Lenny's" outside of New York City, the sandwich chain's proprietor has introduced a new name: "Lenwich by Lenny's."
That's the name that will appear on the front of Lenny's 18th location, at 459 Park Avenue South at 31st Street, when the deli opens in three months. And that's the name that can be found at the location that opened today, at 202 West 40th Street between Seventh and Eighth Avenues.
The new brand will also appear on proprietary products by the chain's chairman and chief executive officer, Sei Hoon "Lenny" Chu, a Korean immigrant and former deli counterman, said Ronald B. Kremnitzer, the co-chair of law firm Pryor Cashman's real estate group. Mr. Kremnitzer along with of counsel Benjamin J. Teig represents Lenny's in its lease negotiations. Mr. Chu hopes to open a few more sandwich shops in New York City before venturing beyond the city. Mr. Kremnitzer declined to specify targeted locations for the chain.
At Park Avenue South, the 15-year lease, with a five-year renewal option, is for 1,200 square feet at street level plus 800 square feet in the basement for storage. It was most recently home to Cafe Guy & Gallard. Redwood Property Group agent Brad Marder represented the landlord, 459 Park LLC, in the Aug. 19 deal. Investor Shlomo Bakhash is a principal of the LLC. Jason Pennington and Zachary Nathan of Ripco Real Estate represented Lenny's. The asking rent was $25,000 a month, Mr. Nathan said. Mr. Marder directed inquiries to the Ripco brokers.
At the West 40th Street location that opened today, Lenwich by Lenny's occupies 2,500 square feet of ground- and mezzanine-level space. Mr. Chu signed the 12-year deal, with a three-year renewal option, on April 17.
Lenny's first location opened in 1989 at 489 Columbus Avenue between 83rd and 84th Streets. The location was recently relocated down the block at 469 Columbus Avenue.