'Prime Hotel' Slated for West 24th Street
---
---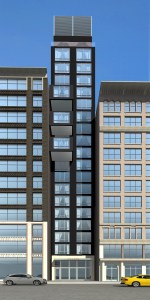 Architect Gene Kaufman has designed a black "boutique style hotel" temporarily called "Prime Hotel" for 17 West 24th Street between Broadway and Avenue of the Americas, the architect told Commercial Observer. And Philip Johnson Alan Ritchie Architects was tapped to handle the interior design.
The 18-story hotel will have 68 guest rooms, a restaurant and a 1,000-square-foot rooftop lounge with a bar, said a source with intimate knowledge of the project. One-third of the rooftop will be indoors. There should be a "nice view" of Madison Square Park and the former Metropolitan Life Tower, Mr. Kaufman said.
The developer, Hag Gyun Lee of Eben Ascel Corp., will manage the hotel, the source said. Mr. Lee wasn't immediately reachable for comment.
Eben Ascel Corp., under the name Prime Hotel Management LLC, purchased the property for $8.5 million in October 2013, according to property records.
Construction requires demolition of a vacant five-story building at the site. The hotel should be completed by June 2016, Mr. Kaufman said.