HAP Applies for Washington Heights Demo Permit [Updated]
---
---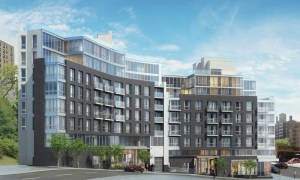 HAP Investment Developers has filed an application for a demolition permit at 4452 Broadway at the southeast corner of Fairview Avenue and Broadway in Washington Heights, according to Department of Buildings records.
HAP purchased the 24,280-square-foot lot including neighboring 4454 Broadway in April 2013 for $7.3 million, according to property records. HAP put the kibosh on rival Quadriad's plans by scooping up the two sites, which had been included in proposed plans by the latter developer, DNAinfo previously reported.
Zoning allows for 97,119 buildable square feet, according to Ariel Property Advisors' listing. Ariel Property's Victor Sozio, Michael Tortorici, Jesse Deutch and Shimon Shkury marketed the two lots as one offering. The institutional seller was seeking around $8 million although there was no official asking price, Mr. Sozio said. If the property sold in today's market, it would go for more than $12.5 million as investors get priced out of development opportunities below 125th Street, he said.
The new condominium building will be eight stories tall with 98 apartments and a commercial floor, HAP's website indicates. HAP didn't immediately respond to requests for comment.
Nearby, HAP has projects at 446-448 West 167th Street and 653 West 187th Street.
Update: This story has been edited to include a comment from Ariel Property Advisors' Victor Sozio.