Cuomo Disclosures Don't Turn Off Real Estate Contributors
---
---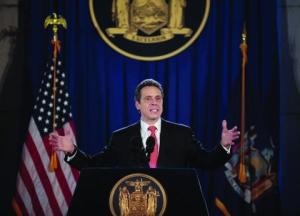 While The New York Times' three-month probe of Governor Andrew Cuomo's handling of the now-defunct Moreland Commission to Investigate Public Corruption raised new questions about a matter that's reportedly under investigation by federal prosecutors, the disclosures didn't alter the governor's fundraising ability among members of the city's real estate elite, according to campaign finance records released last Friday.
The day after the Times story splashed across its front page, key personnel at Fisher Brothers and Cushman & Wakefield (CWK) showered the governor's campaign committee with sizable contributions, illustrating continued financial support for the governor whose strong lead in the polls hasn't shrunk following the reports that he shielded allies from investigation.
"They like to bet on a sure thing and the governor is as close to a sure thing as possible," said Blair Horner, the legislative director of the New York Public Interest Research Group. "If you're in the real estate industry, it's about power and granting yourself access to people with power."
Fisher Brothers partner Winston Fisher donated $12,000 to the governor's campaign on July 24, while his wife Jessica Fisher gave $13,000 on the same day, the records show. Cushman & Wakefield Chairman of Global Brokerage Bruce Mosler contributed $10,000 that day as well, part of a total haul of $329,950 for the governor's reelection campaign the day after the story broke. Mr. Cuomo closed the 32-day period covered by the latest report with $32.4 million cash on hand.
"The real estate industry has always been prominent in its campaign spending, as far back as I can remember," Mr. Horner said. "These are American capitalists in every sense of the word. They don't make campaign contributions for charitable reasons, they're expecting it to help the bottom line."
Officials at Fisher Brothers and Cushman & Wakefield declined to comment, and Mr. Cuomo's office didn't respond to a request for comment.
Hudson Group Retail, the newsstand and bookstore operator that signed a $21.3 million, 11.5-year lease renewal for 17 spaces in the Port Authority Bus Terminal in May, gave $15,000 on July 24, according to the records. But representatives for the company said it sponsored a fundraising breakfast for the governor and then sent the check on July 15.
The donation reflects the company's support for the governor's tourism efforts in the state, as well as anticipated sales for the governor's forthcoming memoir, "All Things Possible: Setbacks and Success in Politics and Life," said the East Rutherford, N.J.-based company's vice president of corporate communications, Laura Samuels.
"We believe the book, set to be published in early September, will be a big seller for us, particularly in the New York area market," Ms. Samuels wrote in an email. "As you know, Hudson News/Hudson Booksellers is one of the largest book retailers in the country. And we hope to set up some book signings with the governor later on in the year."