Columbus Square Crumbs Given Second Lease On Life
---
---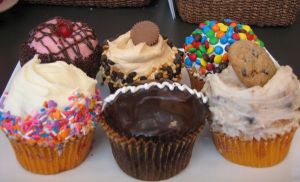 The new owners of the Crumbs Bake Shop chain are reopening the Columbus Square location, the first cupcake shop to come back to life since the chain's dramatic closure last month followed by a Chapter 11 bankruptcy protection filing.
Crumbs will reopen next month at 795 Columbus Avenue at around 99th Street in Columbus Square, an apartment building complex consisting of five buildings, after coming to an agreement with the landlord, the New York Post reported. 
Crumbs will emerge from bankruptcy tomorrow with a new owner, Lemonis Fischer Acquisition Co., following a $6.5 million bid for the company. Early last month Crumbs abruptly closed all of its locations a week after its shares were delisted on Nasdaq. The cupcake chain had dozens of shops with more than 12 in New York City alone. The first shop opened in March 2003 on the Upper West Side and the company went public in 2011.
In addition to cupcakes, the new owners, a partnership between CNBC TV personality Marcus Lemonis and Dippin' Dots owner Fischer Enterprises, will serve coffee and other beverages at the Upper West Side location.
Lemonis Fischer Acquisition Co. are expected to reopen 28 of the 49 locations in New York, Los Angeles, Chicago and Washington, according to the Post.