CBRE Report: East of Broadway a Value Play Downtown
---
---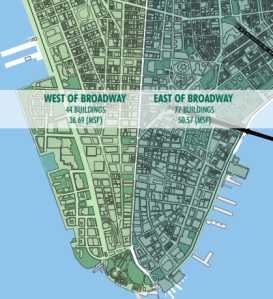 Analysts at CBRE found that one of New York City's most famous corridors divides the hot downtown commercial market between one area with more inventory and another with higher asking rents, according to a report the company will release later today.
While buildings east of Broadway made deals for 1.75 million square feet of leasing activity in the year to date to nearly match the 1.76 million square feet of leasing activity west of the corridor, properties west of Broadway carried average asking rents of $58.14 per square foot to the east of Broadway average of $43.03 per square foot, figures from the report show.
"It involves brand new architecture and construction, as well as the amenities of both the World Trade Center and Brookfield Place retail complexes; That's the main difference," said CBRE Executive Vice President of brokerage services Bruce Surry. He added, "The east side is more of the value play. That's where you're getting the better deal in terms of the asking rents."
East of Broadway boasts 50.57 million square feet of office inventory over the west of Broadway total of 36.69 million square feet, yet west of Broadway offers more than two times the inventory of office stock built after 1980, with 20.17 million square feet to the east's 9.61 million square feet, the report says. If the leasing activity trend continues to the end of the year, west of Broadway would outpace the east side of the street after losing out in leasing activity to the east side's larger inventory by 580,000 square feet in 2012 and 920,000 square feet in 2013.
While west of Broadway attracted the greater share of tenant relocations from outside the downtown market since 2011, leasing out 3.10 million square feet of space to the east side's 1.32 million square feet, both markets are thriving, the report concludes.
"Despite the differences between these two 'halves' of downtown, both [east of Broadway] and [west of Broadway] have experienced a surge in investment activity," the report says. "Both sides of Broadway will continue to provide value to downtown's recent renaissance as a premier office market."