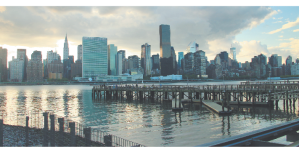 Landlords across the city are embracing non-traditional leases in the hope of avoiding two problems: a less than fresh roster of tenants and empty rental space. And property owners are taking advantage of the perks of filling commercial space with creative companies under a wide range of lease terms to amp up property presence, community engagement and, of course, the bottom line.
And while pop-ups came into their own amid the recession for the basic reason of filling space, landlords are increasingly using them as a way to market properties even with much improved vacancy rates, according to reports.
Particularly in areas like Long Island City and the northern Brooklyn waterfront known for an appreciation of the arts and innovation, community support of these types of businesses has continued potential to present an array of out-of-the-ordinary rental arrangements between property owners looking to capitalize on the attention creative companies bring to a building or tenants needing either short-term, flexible or specially designed spaces.
"It's important to create a dynamic, ever-changing environment—it can't just be static," said Michael Phillips, the chief operating officer of Jamestown, regarding the strategy behind incorporating pop-ups and creative tenants at the company's properties.
The Falchi Building at 31-00 47th Avenue in Long Island City is one Jamestown property where the company has employed such tactics.
Like its surrounding neighborhood, the building has evolved from industrial beginnings. Jewelers and metal casters predated and have been used to leverage today's tenant list, Mr. Phillips said. That list is replete with creative entities like the tech incubator Coalition for Queens and a food vendor pop-up space.
"Any place [where] you have a dynamic, young workforce, you can have an idea exchange when taking time away from work," said Mr. Phillips as he spoke of The Falchi building's tenant roster and close proximity to LaGuardia Community College.
Pop-up offerings, located adjacent to permanent retail tenants, encourage shoppers with an additional reason to come back—seeing what's new—before or after they browse permanent offerings. This double draw "enhances the [scope] of repeat business," he said.
Even with steady signs in the commercial rental market, landlords in Long Island City continue to embrace non-traditional leases and tenants.
The office market in Long Island City, "remained relatively stable in the second quarter of 2014," according to a Newmark Grubb Knight Frank report. Average asking rent decreased slightly to $22.24 from $23.41 per square foot from the same quarter last year, while vacancy rates were unchanged, at 4.5 percent, year-over-year.
Asking rent for pop-up spaces can be as much as 50 percent below market rates, according to commercial real estate listings web platform 42 Floors, with flexible leases terms typically ranging from one day to one year.
Property owners in the area are committed to an involvement in the community's deep roots in the arts that flourish between area staples like MoMA PS1, The Noguchi Museum, and previously, the graffiti shrine 5 Pointz. With such a strong focus on art, creative tenants in the area abound.
"There are a large number of artists, which are an important part of tenant base in the area," said Elizabeth Lusskin, president of the LIC Partnership. Many artists occupy industrial spaces in the area, she continued, and "are being leased to just like other tenants."
A large portion of the artist tenant base in LIC is well established and working, according to Ms. Lusskin, and therefore, desire more permanent rental arrangements.
At the same time, there exist pop-up and temporary opportunities for landlords looking to fill and market space for up-and-coming talent interested in building a brand on a smaller budget.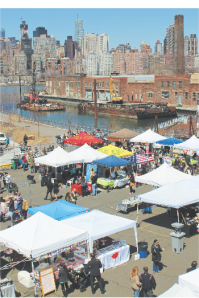 Under the headline "Flea to Queens" on its website, the LIC Flea & Food at 5-25 46th Avenue between 5th Street and Vernon Boulevard engages the community with creative vendors through a market of roughly 85 pop-up spaces every Saturday.  Featured items include artisanal foods, jewelry, antiques, and local painters and photographers, among others, according to founder Josh Schneps, which are provided by a largely up-and-coming business base that rents space at the Flea for between $125 and $200 a day.
"LIC is a hidden gem," said Mr. Schneps.  Despite strong museum and restaurant attractions, Long Island City was lacking in the sort of of shopping and markets the rest of the city offered, he said. The Flea provides a way for up-and-coming businesses who cannot afford their own store to market themselves and also aids in attracting residents and, eventually, more tourists to the area, he said.
TF Cornerstone has sponsored the Flea & Food since its opening last June, according to a company spokeswoman.  The Flea selected its location in large part to neighbor the sponsor's new residential development on Center Boulevard, which will house 6,000 residents and potential customers when the final building is fully leased.
Smaller and pre-built spaces at buildings like Falchi are also conducive for artists or creative companies scouting unique space tailored to their sometimes quirky business specializations that don't necessitate a commitment to substantially more square footage.
Studio spaces are also popular for both landlords and tenants in the perhaps equally arts-focused Red Hook neighborhood of Brooklyn.
The building at 99 West 9th Street in Red Hook, owned by Francine Realty Corporation and marketed by Ideal Properties Group, is comprised of live-work spaces suited for artists.
"Creative tenants are oftentimes very creative themselves in finding housing that supports their need for expression," Aleksandra Scepanovic, managing director of Ideal Properties Group, said in an emailed statement.
The property at 99 West 9th Street, originally a warehouse, was remodeled five years ago, according to Ms. Scepanovic. The rental spaces now include open area, large windows for lighting and modern amenities. Asking rents for the studio and duplex spaces hover around $35 per square foot.
"Without artists, the area's rental market would be a more difficult sell for the local property owner—and without artists, the rental market in Red Hook would not be as appealing to the tenant pool that often follows in the footsteps of artists who pioneer the rental effort," she said.
Even in expensive Manhattan, which is increasingly closed off to artists and cultural institutions, unorthodox leasing markets can have diverse tenant rosters.
Temporary rentals in Manhattan, which have largely been associated with fashion startup pop-ups in Soho and the Meatpacking District, have helped a wide range of commercial tenants pervade the market.
The Salt Lake City-based Davinci Meeting Rooms matches companies with office space rented by the hour—just about as short-term as possible. The company's online platform "allows companies to create a big business image on a small business budget," according to Davinci's website.
With over 50 properties available with hourly office space in Manhattan, landlords seek out Davinci, which they then bill directly, according to a representative of the company. Tenants who contact Davinci to rent the space pay the hourly rate to the online service provider.
Even with all three Manhattan office markets—Midtown, Midtown South and lower Manhattan—showing improvement in the first half of 2014, according to a July CBRE report, any vacancy is still lost revenue for landlords.
Many of the landlords that rent commercial space by the hour through Davinci are filling space in the interim between more permanent tenants to bring in revenue.  Other landlords set aside specific meeting or conference rooms for permanent hourly rental, as the per diem rates charged for this type of short-term arrangement are generally higher than a traditional one's.
A few of the Manhattan properties with rentals available through Davinci include 1500 Broadway in Times Square, with prices from $75 per hour; 33 West 19th Street in Chelsea, from $15 per hour; and 30 Wall Street in the Financial District, where rents start at $60 per hour. This short-term rental strategy is being used by landlords with properties located in varying neighborhoods throughout the city.
Jamestown's Chelsea Market also offers temporary commercial rentals through pop-up space, which ranges anywhere from free (mainly for non-profits) to $10,000 per day, according to Mr. Phillips.
The 1.2-million-square-foot property of office and retail space with high-profile, longer-term tenants including Google, The Food Network and Major League Baseball, rents out pop-up space 45-50 weeks a year to a vast array of retailers and events, he said.
"We ultimately want to lease long-term," Mr. Phillips conceded, "but it is always important to have spaces that are short-term to create the dynamic space."