Winick Leases Three Spaces at 400 Broome Street
---
---
Winick Realty Group has leased three spaces to fill the repositioned retail space at 400 Broome Street, Commercial Observer has learned.
Asking rent for all three spaces was $150 per square foot, and lease terms are 10 years, according to Aaron Fishbein of Winick, who, along with Executive Vice President Darrell Rubens, represented building owner Coral Broome Street LLC in the transactions.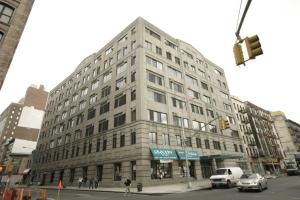 Health food chain Sweetgreen recently signed for 2,400 square feet of ground-level space and 1,600 square feet of basement space in the building under the address 100 Kenmare Street, as previously reported by CO. California-based Filmore and 5th Designer Consignment signed for its first New York location with a 1,680-square-foot, ground-level space and basement at 398 Broome Street, and Paul Fox Salon signed for a 950-square-foot, ground-level space at 7 Cleveland Place, according to a release issued by Winick.
Paul Fox Salon signed for its space approximately three months ago, according to Mr. Fishbein, and has since opened, while Sweetgreen and Filmore are expected to open in the third quarter of this year.
"Sweetgreen and Filmore are companies with real financial backing and locations across the U.S," said Mr. Fishbein. "With those two choosing this area, it definitely shows that there is buying power and demand."
The Nolita building offers recently upgraded retail space fronting Kenmare, Cleveland and Broome Streets, according to a release issued by Winick.
"Paul has been in business a long time for himself, and he has a large client base that will come with him to the store, said Joseph Robinson of Bond New York, who represented Paul Fox Salon in the transaction. "His clients are mostly downtown, and the new location is convenient because of the nearby subway stops." The new salon will hit an underserved market in the area as well, Mr. Robinson continued.
Taryn Brandes of SCG Retail, who represented Sweetgreen in its lease, previously told CO that the restaurant's location on Kenmare Street is expected to attract a dense population of working professionals in the Nolita area.
Jordan Cohn of SCG Retail, who represented Filmore, was not immediately available for comment.