Steiner Seeking $300M Construction Loan for DoBro Resi Building   
---
---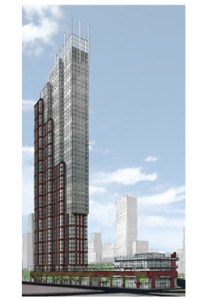 As Downtown Brooklyn continues to sprout luxury residential spires, one developer is ready to join the herd—and needs some cash to do so.
Doug Steiner's firm, Steiner NYC, is on the hunt for $300 million in construction financing to build a residential rental building at Flatbush Avenue and Schermerhorn Street in Downtown Brooklyn, a source told Mortgage Observer. A representative for Steiner declined to comment.
Steiner NYC bought four parcels on the corner in 2011 for about $30 million, previous reports show. In 2012, he told the Wall Street Journal he planned a 52-story, 720-unit tower he expected to cost between $325 and $350 million. At that time, the Steiner family planned to make a $100 million equity investment in the project and finance the rest of the cost through the city's so-called 80/20 program.
That program, which requires 20 percent of units to be "affordable," as defined by a percentage of the median area income, provides tax-exempt financing for qualified multifamily developments.
But it would appear that such financing did not come through, because he is now seeking conventional construction financing, with representation by JLL (JLL), according to our source (Mr. Steiner's rep declined to confirm that rumor, as did JLL).
A source said that 80/20 "did not make economic sense," for the project.
The site, which comprises four parcels that include 350 Livingston Street, is part of the area's Special Downtown Brooklyn District, according to the New York City Department of City Planning's website. In the special district, which is intended to spur growth in the area, mixed-use towers that meet certain criteria have no height restrictions.
Mr. Steiner, who is most well known for the film studio, Steiner Studios, that he operates at the Brooklyn Navy Yard, has been bullish on Brooklyn. His firm bought the Jardin, a 44-unit Williamsburg luxury rental building, for $38 million in 2012, and he has told the press in the past that he regrets "not buying up all of Williamsburg," before it became the pricey hipster haven it is today.