Penthouse Office at 277 Park Ave Hits the Market
---
---
For the first time in half a century, the 50,000-square-foot duplex penthouse office at 277 Park Avenue is available for lease, Commercial Observer has learned.
The space, located on the 49th and 50th floors of the building, has been occupied by Continental Grain Company, which is consolidating operations and moving to the General Motors Building. Asking rent for the space is $125 per square foot and occupancy is expected for the first quarter of next year.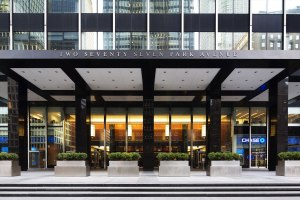 "It's clearly exceptional space with expansive views and we think its going to be a great opportunity for a financial services firm," said Mark Boisi, the chairman of the New York City Tri-State Region for Cassidy Turley, who is leading the marketing effort on behalf of the landlord, the Stahl Organization.
Cassidy Turley will focus initial efforts on leasing the entire two-floor penthouse, Mr. Boisi noted, adding, however, that the landlord would consider leasing single floors to the right tenant.
"If the right opportunity comes our way, we'd be more than happy to consider one floor," he said.
The existing installation in the penthouse is dated and will be demolished once Continental Grain vacates the space, according to Mr. Boisi, who is overseeing leasing alongside James Frederick, a vice chairman and principal at Cassidy Turley.