Met Opera Responds to 32BJ Building Workers
---
---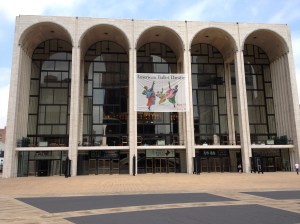 Metropolitan Opera officials struck a conciliatory tone in their first comments after the Met's 32BJ SEIU security guards, porters and other full and part-time workers went public with their disgust over the Met's proposed new contract, Commercial Observer has learned.
Met officials are circulating documents showing that the opera's total labor costs rose from $185.9 million to $258.9 million between fiscal years 2006 and 2013, and they pointed out that the Met's potential health care and pension cuts in its proposal for 150 32BJ workers would reduce those employees' compensation on a smaller scale than the Met's proposal for its performers.
"The proposals to 32BJ have been focused almost entirely on benefits, not pay, and the proposed cost savings are less than half that proposed to other groups," said Met spokesman Peter Clark, in a prepared statement. "For example the Met's current medical plan has no premium sharing or deductible component, and family coverage costs the Met nearly $30,000 per employee. To bring this into line with most employer-sponsored plans, the Met is proposing some cost sharing in this area but is also open to negotiating alternative solutions that would achieve cost reductions."
The Met's administrative staff says it took on reductions in its pension and health care plans starting in 2009 and shaved off more than $1 million in production costs over 1980's performances during its most recent productions of two Giuseppe Verdi operas, "Il Trovatore" and "La Traviata." But officials at the cash-strapped cultural institution say that, while private contributions have "increased dramatically," they aren't sufficient to bring the Met's $253 million endowment in line with its budget of over $300 million.
"Our donors are not able to continue financing the growing gap between flat revenues and growing expenditures," said Mr. Clark, who noted the Met would save between 16 and 17 percent over the previous contract under its current proposal. "The board of the Met recognizes that the organization is over-reliant on a small number of major gifts from a group of individuals, with the top ten donors contributing almost 20% of the annual operating budget, and has mandated cuts in expenditures, while at the same time approving a new plan to double the size of the Met's endowment."
But the 32BJ workers say they don't approve of the Met's plans for their compensation, which would remain stagnant rather than rise by 2 percent each year under the proposed 5-year plan slated to go into effect when the current plan expires at the end of this month. In addition, workers would pay into high-deduction medical plans for the first time and get smaller pensions upon retirement, as Commercial Observer reported.
"We are open to considering ways to preserve our members' pension and health benefits without imposing added costs to their already hard-pressed family budgets," said Shirley Aldebol, vice president of 32BJ, in a prepared statement. "But what the Met is proposing now would push our members to the brink of poverty and is tantamount to a wage cut."