Met Opera Building Workers To Rally Later Today
---
---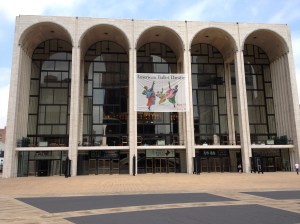 A day after Metropolitan Opera General Manager Peter Gelb warned of a potential lockout over the troubled cultural institution's contract negotiations with its employees, the union representing security guards, office clerks, ushers and other less-heralded workers are holding an afternoon rally to protest what it calls "Met Opera's Poverty Proposal."
The 150 Met employees who are part of 32BJ SEIU, the country's largest property service worker union, are clamoring against significant reductions to their health and pension benefits in the Met's proposed contract as the two sides close in on a looming deadline at the end of the month.
"We are rallying today because the Met Opera's proposal would push our members to the brink of poverty," said Shirley Aldebol, vice president of 32BJ, in a prepared statement. "We are bargaining in good faith and plan to continue doing so and our members cannot afford a lock out. If the Met Opera were to lock out our members, they would lose their health care and many would be unable to pay the thousands of dollars in COBRA costs."
Under the proposal, the employees who also fill full and part-time roles like ticket-taker, elevator operator and janitor say their generous health plans would turn into high-deductible arrangements with potential out-of-pocket costs of $6,000 per year for individuals and $12,000 per year for families, while their pensions would face a cutback from 60 percent of their 2003-4 salary to 40 percent of that total. The workers, who make between $17 and $22 per hour and $35,000 to $42,000 per year, according to 32BJ, worry they'll no longer be able to afford basic health needs.
But Met officials are countering that they're afraid they'll no longer be able to finance the opera after labor costs grew by $73 million between 2006 and 2013, from $185.9 million to $258.9 million. While higher-paid performers in the cast and orchestra would take on steeper pay cuts than the 32BJ workers in the contract, Met officials are trying to reduce their overall labor costs by between 16 and 17 percent and rectify the gap between their $300 million operating budget and their $253 million endowment. But they expressed optimism that they could reach agreement with 32BJ before any work stoppage.
"The hardworking employees of 32BJ are essential members of the Met family," said Met spokesman Sam Neuman in a prepared statement. "We are actively engaged in negotiations with them, and we are hopeful that we will reach a mutually agreeable resolution by the expiration of their current contract on July 31."
The rally, which will also feature local community members and area Council Member Helen Rosenthal, will begin at 5 p.m. outside the opera's Lincoln Center headquarters.