Max Brenner, Others Zero In on Vacant Crumbs Shops
---
---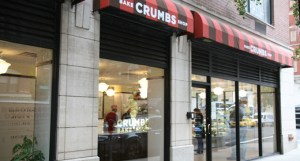 In less than 24 hours since news broke about the closure of Crumbs Bake Shop's chain of stores, retail brokers and tenants have been jockeying to get in on the cupcake joint's real estate. One such brand that is hoping to land some of Crumbs' locations is chocolatier Max Brenner.
"Max Brenner is interested in a number of Crumbs locations within its current markets of Washington D.C., Philadelphia, New York City and Boston," Sam Borgese, CEO of Max Brenner International, said in a statement provided to Commercial Observer. "We are specifically looking at location sizes that fit our pure chocolate bar concept."
Max Brenner has a restaurant and store at 841 Broadway at Ninth Street as well as locations in New Jersey, Boston, Philadelphia and Bethesda, Md., according to the company's website.
Crumbs reportedly informed employees yesterday that it would be shuttering all of its stores, a week after its shares were delisted on the Nasdaq Stock Market. The cupcake chain had dozens of shops with more than 12 in New York City alone including locations at 40 Broad Street, 43 West 42nd Street, 880 Third Avenue, 1418 Lexington Avenue and 350 Amsterdam Avenue. The first shop opened in March 2003 on the Upper West Side.
Real estate attorney Adam Leitman Bailey said it sounds like the company is heading to bankruptcy.
"Landlords will get on line to have any past due rent paid and will aggressively seek to obtain possession of their units which may take three to six months if a white knight does not come along and buy the asset and assume the lease obligations," Mr. Bailey of his eponymous firm said.
Brokers with small food-oriented clients are interested in the vacancies, which range from around 300 square feet to 1,000 square feet.
"This provides an opportunity for some really great retailers to find good space that hasn't been on the market and gives landlords an opportunity to upgrade their stores with better quality retail," said broker Lisa Rosenthal of Lansco. Ms. Rosenthal sent a list of the New York City Crumbs locations to a few of her clients. One dry good client, whose lease is expiring, is eyeing space across the street from his current location, she said.
Broker Geoff Bailey of SCG Retail said he is setting up a tour of a specific Crumbs location for a boutique coffee client.
"We're targeting their spaces with the tenants we have," Mr. Bailey said.
Edward Hogan, national director of retail leasing at Brookfield Office Properties, said that his office has been inundated with phone calls today about the Crumbs location at Brookfield's W. R. Grace Building at 1114 Avenue of the Americas. The space is less than 400 square feet and the asking rent is $375 per foot, Mr. Hogan said. Crumbs, which has a 10-year lease in the building, didn't open today and Mr. Hogan's office was unable to reach the company to find out how to get possession of the property. Brookfield could rent the Crumbs space on its own or combine it with the more than 4,000 square feet of available adjacent retail space in the building.
Faith Hope Consolo, chairman of the retail leasing and sales division at Douglas Elliman, said she has received lots of inquiries about the available Crumbs locations, "mostly from fashionable fast-food [tenants]."
In a market oversaturated with cupcake shops, why are Magnolia Bakery, Buttercup Bake Shop, Baked by Melissa, Billy's Bakery and Sprinkles Cupcakes succeeding where Crumbs failed?
"Crumbs over-expanded and they were nothing special," Ms. Rosenthal said. "They became a commodity."
The cupcake craze started in the 1990s with Magnolia, which grew a cult following after being featured on Sex and the City.
"There is a cachet to Magnolia," Ms. Rosenthal said. "[The owner] only has a few select locations. There's a mystique to the Magnolia brand and they work hard to maintain that mystique. And the products are superb and made fresh in their stores."