LES Council Member Pushing for Affordable Housing at Parking Garage
---
---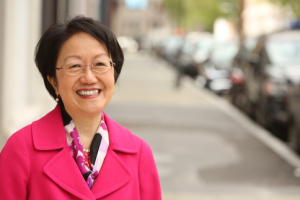 Council Member Margaret Chin, a Democrat who represents the southern tip of Manhattan, will push the city to turn a five-floor, 350-space municipal parking garage at 112 Ludlow Street on the Lower East Side into a 90-unit affordable housing development, the Wall Street Journal reported this morning.
The garage once figured in the decades-long discussions around the nearby Seward Park Renewal Area before the Bloomberg Administration eventually left it out of the redevelopment that will net 1,000 residential units (including 500 affordable units) and 250,000 square feet of office, retail and open space, Ms. Chin wrote in a June 26 letter to city Department of Transportation Commissioner Polly Trottenberg.
"With a new administration in office, I would like to know if DOT's position remains the same regarding this site," Ms. Chin wrote, citing Mayor Bill de Blasio's plans to create or preserver 200,000 affordable units over the next decade. "My reason for raising the question is that I believe the Ludlow Street lot continues to present a great opportunity for the development of affordable housing."
Officials with the de Blasio Administration are reviewing the letter and expressed their commitment to furthering the Mayor's affordable housing goals, a DOT spokesman told the publication. But the garage "serves a significant community need for parking," the spokesman added, and the lot is currently undergoing a $5.8 million renovation.
Mr. de Blasio's 117-page plan for fostering the affordable units, entitled "Housing New York: A Five-Borough, Ten-Year Plan," expressly mentions municipal lots as possible sites for affordable units without going into specifics on any particular parking lots.
"The city controls a portfolio of properties (such as municipal parking lots) with residential development potential," the plan states. "We will identify vacant and underdeveloped publicly-controlled properties and maintain an up-to-date census of the properties. We also will undertake public outreach to facilitate their development for affordable housing."