Eastern Consolidated to Lease Marble Beauty in Midtown East
---
---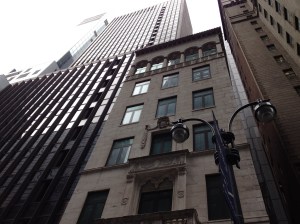 Eastern Consolidated has been tapped to lease out a six-floor marble building just a block east of Bryant Park at 4 East 43rd Street, Commercial Observer has learned.
The landlord recently completed a multi-year renovation on the building near Grand Central Terminal that offers a prime retail opportunity, said Alexander Hill, the Eastern Consolidated broker with the exclusive listing.
"This property provides a unique multi-level flagship branding opportunity, suited for a luxury retailer or international brand," Mr. Hill, who exclusively represents the owner, said in a prepared statement. "Full-building availabilities are a rare find in this central section of Midtown, which consistently receives heavy foot traffic."
Asking rents are $425,000 per year in the basement, ground floor and mezzanine spaces and $65 per square foot on the third through six floors, according to the broker. The space could serve as a high-end retail flagship or an art gallery, he added.
Marketing company Von Pok Industries purchased the unique structure that's detailed by cherubim, crests and columns and dwarfed by surrounding office towers for $6.3 million in 2009.