1 New York Plaza Scores Five New Retail Concourse Tenants [Updated]
---
---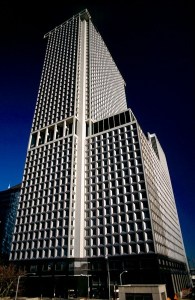 Brookfield Office Properties has signed leases with five new retail tenants at its 1 New York Plaza within the past six weeks, bringing the 42,000-square-foot retail concourse to 65 percent leased, Commercial Observer has learned.
The new tenants are Starbucks (1,200 square feet), Chipotle (1,800 square feet), Chop't Creative Salad Company (2,400 square feet), Cobbler Express (950 square feet) and Optometric Arts (950 square feet).
All of the leases in the 50-story, 2.6-million-square-foot building at Water and Whitehall streets, on the southern tip of Manhattan, are for about 10 years, said Edward Hogan, national director of leasing at Brookfield Office Properties. The asking rent is $60 per square foot.
In addition, New Jersey-based Retro Fitness signed a lease for 17,000 square feet at 1 New York Plaza, the fitness center's first location in Manhattan, as reported last month.
In all six deals, Brookfield was represented in-house by Mr. Hogan and Mark Kostic, in addition to Steven E. Baker and Kenneth Hochhauser of Winick Realty Group. Mr. Hochhauser also represented Chipotle in its deal.
After taking a beating in Superstorm Sandy, when the building's lower levels were flooded with an estimated 23 million gallons of seawater, all of 1 New York Plaza reopened in November 2012, but for the retail concourse. It has been undergoing a $14 million redesign and repositioning, including adding a ventilation system. Only one previous tenant, Gateway News (921 square feet), will be returning once the concourse opens. The retailers are slated to open in the concourse in the winter of 2015.
"Without gutting the whole floor we wouldn't have been able to upgrade the entire tenancy," Mr. Hogan said.
Brookfield started construction on the retail concourse in early spring of this year after mulling different designs and tenant mixes for the space.
"We decided the neighborhood needed retail," Mr. Hogan said. "It made sense given the demand and feedback as we discussed what we could bring there."
Update: This story has been edited to include the brokers who represented the landlord in the deals as well as the square footage of the leases.