Three Tenants Snap Up Full-Floor Leases at 475 Fifth Avenue [Updated]
---
---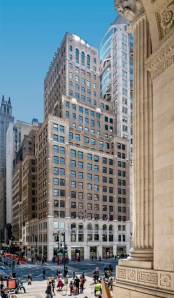 Three tenants have nabbed full floors totaling 28,190 square feet at 475 Fifth Avenue between 40th and 41st Streets.
Torchlight Investors, an investment management firm has signed a deal for 16,029 square feet on the entire 10th floor of the building. Square 1 Bank signed for 7,842 square feet, spanning the entire 18th floor, and Daikin, a global air conditioning and refrigeration provider, has signed for 4,319 square feet over the entire 21st floor. All of the lease are for 10 years, according to JLL, which represented the building in the deals.
Torchlight will relocate from 230 Park Avenue, and Square 1 will relocate from 500 Fifth Avenue, less than two blocks away, according to a statement from JLL. Daikin will move from another space in the building.
TIAA-CREF acquired 475 Fifth Avenue for $144 million in 2011, according to property records. The building, which has views of the New York Public Library and Bryant Park, has since undergone a multimillion dollar capital improvement, including lobby, retail level visibility, and mechanical and electrical infrastructure enhancements.
"With renovations nearing completion, activity at the building has picked up dramatically, as illustrated by the signing of three new leases, said Frank Doyle, vice chairman at JLL, said in a prepared statement.
Mr. Doyle along with JLL's Cynthia Wasserberger, Shawna Menifee and Douglas Neye represented TIAA-CREF in the deals.
David McBride, a senior director with Cushman & Wakefield, represented Torchlight; Melissa Bazar, an executive director with Cushman & Wakefield, represented Square 1; and Junji Miyake, a vice president with Cassidy Turley, represented Daikin.
Asking rents in the building range from the $70s to the $80s with a few floors with terraces priced higher, according to a spokesman for JLL.
All brokers involved in the deals were not immediately available for comment.
Update: This story was edited to include the asking rents.