Starbucks Competitor Planning Big NYC Expansion [Updated]
---
---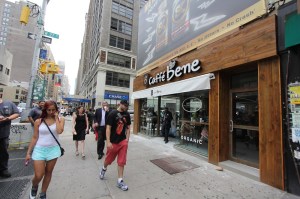 A South Korea-based coffee chain will open 11 new stores in the next four months, the Wall Street Journal reported yesterday.
Caffèbene will usher in new locations at 9 Edward Morgan Place in Washington Heights, 88 Greenwich Street in the Financial District, 12 West 23rd Street in the Flatiron District and 246 Fifth Avenue in Midtown South.
It's a new concept that's just trying to give people a choice in this age of coffee," said John Barry, the company's director of franchising sales, referring to the company's previously-announced plans to open 4,000 locations in the country and a total of 10,000 worldwide by 2020. "We're trying to get a piece of that $30 billion pie."
Mr. Barry said the company selects locations between Starbucks franchises and anticipates grabbing at least a third of the Seattle-based company's customers at each store. Caffèbene currently has six New York City locations in high-traffic locales like Times Square and Union Square.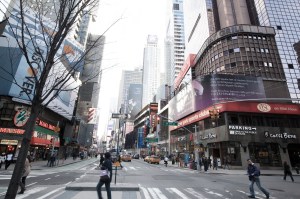 The company started in 2008 and now has 1,000 stores in South Korea, 317 in China and 99 in the United States, and it's offering customers surprising items like Belgian waffles, a rice and barley drink called "misugaru," and "patbingsu," a Korean shaved-ice treat. The company sold 10,000 bowls in the U.S. of a chocolate iteration of its frozen concoction called "Choco Devil Bingsu" in honor of South Korea's World Cup team during May, according to a June 13 press release, and Mr. Barry says the company is hoping its fresh food approach can help it take customers from Starbucks.
"They want it fresh and they want it pure," Mr. Barry said of today's consumers. "That's really important to the millennials–and I would think any person."
Update: This story has been updated to include comments and figures from John Barry of Caffèbene.