Sky-High Ferris Wheel, Massive Outlet Stand to Transform SI
---
---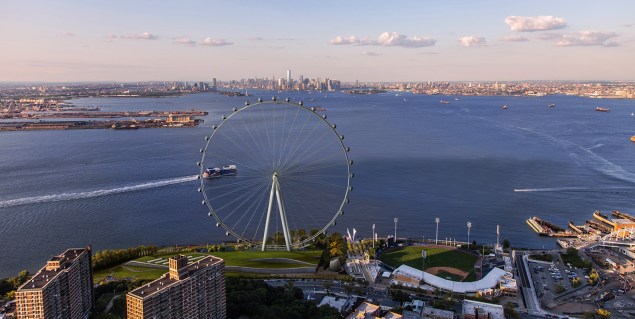 Every year some 2 million tourists ride the Staten Island Ferry to get a better look at the Statue of Liberty, Ellis Island and the New York City skyline. Yet the vast majority of those sightseers spend little time on Staten Island itself, preferring instead to do the "Staten Island shuffle" and mill about the ferry terminal before catching the next boat back to Manhattan.
A group of investors are betting big that those travelers—and New Yorkers from the other boroughs—can be persuaded to extend their stays on the island's North Shore. From the city's first outlet mall to the world's tallest observation wheel, ambitious plans are in the works to make the "forgotten borough" a destination all its own. 
BFC Partners, the developer behind Empire Outlets, New York City's first outlet center, is among the outfits that are confident their goal can be achieved. Executives told Commercial Observer that studies indicate the outlet center and the New York Wheel have the potential to draw between 4 and 6 million new visitors to Staten Island each year.
"It's going to change the waterfront forever," Don Capoccia, a partner at BFC, said of the projects.
The Empire Outlets development is expected to yield close to 350,000 square feet of selling space, featuring up to 125 different retailers, while the New York Wheel will tower 625 feet tall, offering what its developers call unparalleled views of Manhattan. The two projects together will occupy 16 acres of the St. George waterfront adjacent to the Richmond County Bank Ballpark, home to the Staten Island Yankees.
"We're basically holding hands with the No. 1 minor league ballpark in the country," said Travis Noyes, the chief marketing officer for the New York Wheel.
BFC's interest in Staten Island preceded that of much of the market. The firm was introduced to the borough's development opportunities over 10 years ago by Dan Doctoroff's office and has since completed a residential project at the site of an underutilized municipal parking lot on Bay Street, as well as a senior housing facility on Broad Street.
When a request for proposals was issued for the site of Empire Outlets, BFC jumped at the opportunity, confident its competitors wouldn't find the job particularly appealing.
"We had a feeling that most people in our business wouldn't pay it much attention," said Mr. Capoccia, who added that the Staten Island Ferry's tourist ridership makes the North Shore of Staten Island the perfect foundation for a retail outlet mall.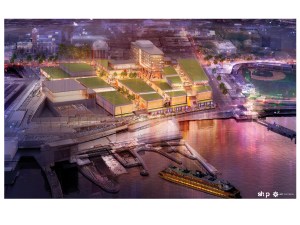 Empire Outlets is slated to open on Black Friday 2016, and Mr. Capoccia said BFC is dedicating all of the firm's resources to beginning construction this year. In the meantime, the mall's developers are negotiating deals for tenants, including a handful of anchors. Already the team has signed a deal with Nordstrom Rack, and the developer is closing in on an agreement with Saks off Fifth, a source told Commercial Observer.
"It's going to be high-end European fashion-brand retailers [among others]" Mr. Capoccia said, declining to name specific tenants. "It will be the usual suspects."
The closest outlet mall to New York City is Woodbury Common Premium Outlets, over an hour away from Midtown Manhattan, and retail brokers are confident Empire Outlets will differentiate itself both in terms of accessibility and in terms of its tenant mix, which is expected to offer more variety than Woodbury Common.
"I think [Empire Outlets] is viable, and I think it is going to attract people from Manhattan, Brooklyn and New Jersey," said Faith Hope Consolo of Douglas Elliman Retail. "It's a home run and a dream come true for Staten Island."
Empire Outlets is expected to create 1,200 permanent jobs on Staten Island's North Shore and an additional 1,000 construction jobs. The developers are keen to employ as many local residents as possible and are going to great lengths to ensure that happens. In fact, BFC is establishing a job-training program to prepare Staten Islanders for the upcoming hiring spree.
"There's a very big unemployment problem on the North Shore, and we'd like to get as many of those jobs filled by local residents as we can," Mr. Capoccia said. "We want to give retailers a solid pool of employees from the local population."
Some argue the project comes not a moment too soon for the area, which was battered by Superstorm Sandy.
"If they can pull this off and get it going, it would be great for the community and revitalize an area that's been so hurt," Ms. Consolo said.
Indeed, many young professionals have fled the borough in recent years, preferring instead to reside in other parts of the city. But developers are betting that that too will change. A number of residential developments are in the works on the North Shore, undertaken in the hopes of luring native Staten Islanders back to their home borough.
Just blocks from where Empire Outlets and New York Wheel will debut, Triangle Equities is developing Lighthouse Point, a $208 million mixed-use residential and hotel project. The development calls for retail shops, restaurants, a 164-room hotel and approximately 100 residential units.
The developer is confident that, in addition to born Staten Islanders, Lighthouse Point can attract young professionals looking for lower-cost alternatives to Manhattan.
"It will be an alternative to Jersey City and other more affordable places," Lester Petracca, the president of Triangle Equities, said. "I think you'll attract young professionals from Manhattan and Staten Island."
Mr. Petracca also envisions the development's hotel becoming a lower-cost alternative to accommodations in Manhattan. Coupled with a free ride on the ferry to Manhattan, the developer is confident Empire Outlets shoppers and visitors to the New York Wheel can be convinced to make Staten Island their jumping-off point in the city.
The project, to be completed in phases, will lag a bit behind the schedules of Empire Outlets and the New York Wheel. Construction of the residential and retail portions of the development is anticipated to begin this winter. Tenant occupancy is slated for early 2017, and the full project is expected to be completed in 2019.
Even getting to this point has been a struggle. The New York City Economic Development Corporation selected Triangle Equities as the project's developer back in 2006, but gaining approvals from the Public Design Commission, the Department of Transportation and the Federal Transit Administration proved time consuming.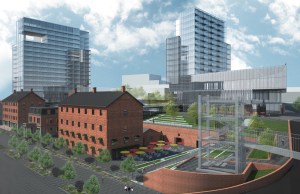 "There were some tough items that we needed to get out of the way before we could close with the EDC," Mr. Petracca said. "The FTA waiver, in particular, took a long time."
So prolonged was the process that Senator Chuck Schumer requested that the FTA expedite the development's application in 2012, back when a construction start date was eyed for summer 2013.
It took until this April for the project to receive final approvals. The NYCEDC announced at the end of the month that it had executed a lease on the vacant three-acre site for the project.
Elsewhere, in the Stapleton section of Staten Island, Ironstate Development is building 900 units of residential housing, with occupancy expected to begin next year. The development will also include 30,000 square feet of ground-floor retail, 600 parking spaces, and a public plaza.
Both developers and brokers are convinced it's time to put Staten Island back on the map. Once dubbed the "final frontier of development" in New York City, that moniker is less apt than it was.
"I think the time has come for the North Shore of Staten Island," Mr. Petracca said. "We're banking on it."