Postings: Tech, Creative Deals Put Dumbo on the Office Map
---
---
Once little more than a manufacturing district, Brooklyn's Dumbo neighborhood has evolved in to one of most popular neighborhoods in New York. Populated first by artists and today by Brooklyn's loft and stroller set, Dumbo is also emerging into a prominent office location. The Watchtower portfolio, a group of buildings once owned by the Jehovah's Witnesses, is being transformed into an office destination for tech and creative companies. Rebranded Dumbo Heights, the development's landlords have already signed online retailer Etsy to a lease. Below, Commercial Observer maps out Dumbo Heights and other prominent developments in the neighborhood. 
ReBar — ReBar was a popular gastropub and screening space for indie films that helped anchor the nightlife along Front Street as Dumbo became a destination neighborhood. In May of this year it closed without warning, with several events that included weddings lined up. The owner later turned himself in to authorities and faces tax fraud charges.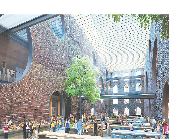 Empire Stores — The long-vacant Empire Stores, a four- and five-story brick warehouse along the Dumbo waterfront dating back to 1869, is being redeveloped by Midtown Equities. The new space will include retail and office as well as multi-use community space. It is set to open next year.
Dock Street — The latest residential project in Dumbo by Two Trees Management, the father-and-son development firm that helped propel Dumbo to its current status as one of Brooklyn's most desirable neighborhoods, is rising at 60 Water Street. The LEED-certified complex will include a 17-story residential tower, 300 units of housing and a 50,000-square-foot school.
St. Ann's Warehouse — Arts at St. Ann's (now St. Ann's Warehouse) is a popular theater company that moved from its original home at the Church of St. Ann and the Holy Trinity in Brooklyn Heights, to an old warehouse at 38 Water Street in 2001. According to its website, it will be at its current space at 21 Jay Street until the fall of 2015, when it will move into the restored Tobacco Warehouse at the northern end of Brooklyn Bridge Park.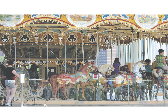 Brooklyn Bridge Park — The former ferry landing on the East River waterfront was first earmarked for park space back in 1984 but it wasn't until 2002 that former Mayor Michael Bloomberg committed to develop the 85-acre site. Pier 1 opened to the public in the spring of 2010, while Piers 6 and 2 opened shortly after. Today, the park boasts playgrounds, concessions, walking and bike paths and the restored 1920s-era Jane's Carousel.
Dumbo Heights — A portfolio of properties formerly owned by the Watchtower Bible and Tract Society of New York, the recently rebranded Dumbo Heights was acquired by Kushner Companies (whose chief executive, Jared Kushner, publishes Commercial Observer), RFR Realty, Invesco and LIVWRK Holdings in 2013. The compound is being redeveloped into an office destination for technology and creative companies and last month signed its first tenant: Etsy. The online shopping site committed to 200,000 square feet at 117 Adams Street and 55 Prospect Street. (See page 22 for more on the Etsy deal.)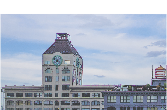 Clock Tower Building at 1 Main Street — Two Trees Management first put the penthouse apartment in the ClockTower Building on the market for $25 million back in 2009. The price has since dropped steadily, down to $18 million today. The 15-story, 124-unit building boasts some more reasonably priced apartments, with other current listings ranging from $1.3 million for a one-bedroom, one-bath apartment up to $4.25 million for a two-bedroom, three-bath unit.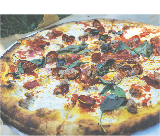 Grimaldi's Pizzeria — This Dumbo pizzeria, through its various stages of ownership, has consistently been included in the conversation about the best pizzeria in New York. The pizza shop first opened at 19 Old Fulton Street before new ownership moved to 1 Front Street. Recently, Patsy Grimaldi, the original owner, opened Juliana's in the original Grimaldi's space.