Manhattan's 20 Exchange Place Receives Final $240M Construction Loan
---
---
Natixis Real Estate Capital this week closed a $240 million construction loan to complete the redevelopment of 20 Exchange Place, the Financial District's landmark office tower formerly known as the City Bank-Farmers Trust Building.
The loan to New York-based real estate developer DTH Capital, brokered by the Singer & Bassuk Organization, will be used to finish converting the 59-story Art Deco tower into a residential apartment building. The 800,000-square-foot tower was originally designed to be the world's tallest building in 1929 and was completed in 1931.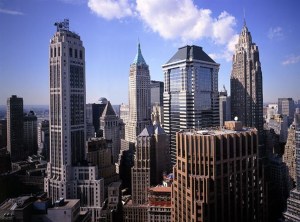 "The goal was and is to reposition and create an identity for the building, because it is the most iconic tower in New York that few people could identify on the skyline shots of lower Manhattan," Andrew Singer, chairman and chief executive officer of the New York-based brokerage firm told Mortgage Observer. Mr. Singer declined to provide the term and interest rate of the new loan, citing client confidentiality.
Another person familiar with the transaction said the loan from Natixis carries a term of three years plus extension options and an interest rate of Libor plus 3.25. That person also noted that tax-exempt Liberty Bonds—funds in total of $8 billion authorized by Congress to help redevelop lower Manhattan after the Sept. 11, 2001 terrorist attacks—were issued for the project in 2006. Those bonds are no longer outstanding, marking one of the first Liberty Bond deals to be refinanced, that person said.
The majority of the tower's floors have been changed to residential apartments following a $256.5 million construction loan provided by a group of lenders led by Helaba and mezzanine debt provided by Ameriton in 2006, according to Mr. Singer.
The new construction loan's proceeds will be used to convert the remaining floors, upgrade the building's amenities for residents and construct commercial space on the mezzanine and underground floors.
Singer & Bassuk also brokered the previous rounds of financing on the project, including an acquisition loan from Credit Suisse Group and two mezzanine loans totaling $135 million in 2004, the $256.5 million construction loan in 2006 and a refinancing of that loan in 2009, which included a modification and extension. Mr. Singer and his colleague Kathleen McSharry won the Real Estate Board of New York's Most Ingenious Finance Deal of the Year award in 2004 and 2006 for brokering the first two of those transactions.
"Approximately one year ago I went to market to arrange a new construction loan to pay off the Helaba loan, which was going to mature, and to provide the funds to convert floors nine through 15, which had not yet been converted to apartments from office," Mr. Singer said.
The New York-based law firm Hunton & Williams advised the borrower on legal matters regarding the Natixis deal and issued a press release this week. Natixis did not return requests for comment in time for publication.
"We look forward to completing the conversion of 20 Exchange Place and we are pleased to have completed the financing with Natixis, expanding our relationship of real estate lenders," Steve Galiotos, chief executive officer of DTH Capital, said in a prepared statement.
DTH Capital is owned by the publicly traded Belgium-based insurance company AG Insurance and the Luxembourg-based private investment company Eastbridge Group.