HFF Arranges $65M Refi for Arlington, Va. Residential Development
---
---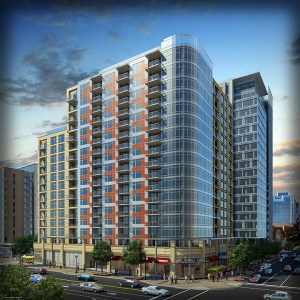 HFF has secured a $65 million loan to refinance a 17-story, 257-unit luxury residential building in the Ballston section of Arlington, Va.
The 15-year, fixed-rate loan from Prudential Mortgage Capital Company was obtained for the Shooshan Company, an Arlington-based investor and developer.
"The permanent loan for this property was secured while it was still in lease-up to reduce interest rate risk and to take advantage of historically low interest rates," said Walter Coker in a prepared statement. Mr. Coker, along with Sue Carras and Brian Crivella headed up the team that handled the transaction for HFF, according to a release from the company.
The building, known as The View, was completed earlier this year. The LEED-certified tower comprises the second phase of Liberty Center, a 2.3 million-square-foot, mixed-use project that will include hotel, retail, office and residential components. Shooshan is developing a total of five buildings in the southern portion of the project, according to Liberty Center's website.
Shooshan could not be reached for comment on the refinancing. Prudential representatives were not immediately available for comment.