Former Bronx Detention Center Sale Closes
---
---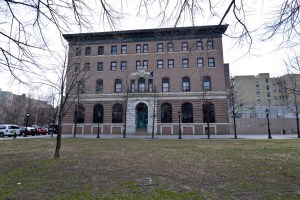 Pyramid Investors JV LLC, a joint venture between Manhattan-based Bluestone Group and Bronx developers Altmark Group, closed on the $6.65 million purchase of the Pyramid Reception Center in the Bronx last Thursday, Commercial Observer has learned.
New York State Office of General Services sold the 60,000-square-foot, four-story Melrose section property, which was New York State Office of Children and Family Services' detention center for boys, at 470 East 161st Street and its adjoining half acre of land at a public auction in October.
Pyramid is considering various community-based options for the development and has retained John Peters, a senior director of brokerage at Cushman & Wakefield, to market the property, Barry Altmark, a senior vice president at the Bluestone Group, told CO. The sale was made with the condition that 20 percent of the existing building's square footage or proposed square footage be allocated for community facility use, according to the auction brochure for the property. Ivan Diaz of Diaz & Associates represented Pyramid Investors JV LLC in the deal.
"The Melrose area is experiencing continued growth with the recent completion of Atlantic Development's 700-unit Boricua College and Village, the leasing of the Brook House Furniture building to the nonprofit Boom! Health and the announcement of the Bronx Music Heritage Center," Mr. Altmark said in a statement to CO. "We are currently speaking with several local nonprofits and charter schools that are interested in the property."
The minimum bid for the property, also a former YMCA building, was $3.9 million. There were six registered bidders at the auction, Real Estate Weekly previously reported.