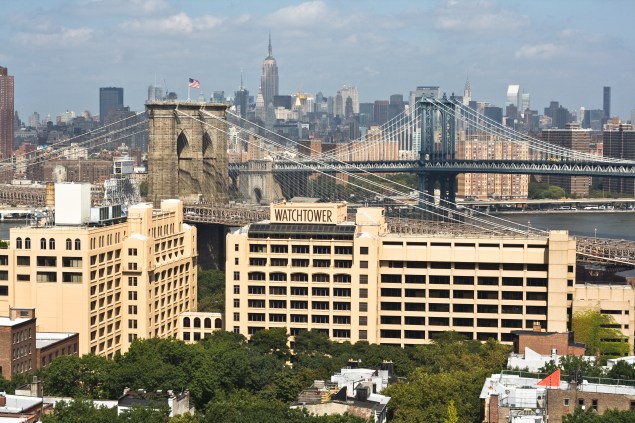 Up on a hill, yet down under the Brooklyn Bridge overpass, sits Dumbo Heights, a collection of manufacturing buildings including the former Watchtower buildings. Once owned by the Jehovah's Witnesses, the properties were home to printing presses that churned out the religious organization's pamphlets and Bibles, as well as corporate offices and dry-cleaning services for members of the delegation.
Last October, the Witnesses sold six of these buildings to Kushner Companies, Invesco, LIVWRK and RFR Realty for $375 million. They joined forces to turn the properties into perhaps the largest and most advanced creative technology hub in New York, a campus meant to rival even the legendary campuses of Silicon Valley. LIVWRK's chief executive officer, Asher Abehsera, branded the campus Dumbo Heights and a new kind of New York City development was born. (Kushner Companies CEO Jared Kushner is the publisher of Commercial Observer.) 
While West Coast tech campuses often sprawl several acres, New York's hubs scale vertically, with companies often acquiring large buildings (e.g. Google at 111 Eighth Avenue) or leasing space in existing skyscrapers as LinkedIn did at the Empire State Building. Smaller start-ups generally shack up with likeminded brands at co-working space providers like WeWork.
Dumbo Heights will offer a fresh take on, and combination of, existing California and New York models as it builds upon Brooklyn's established Tech Triangle, whose borders span the Brooklyn Navy Yard, Downtown Brooklyn and Dumbo. "Most of the California models are very suburban," Purnima Kapur, the director of the Department of City Planning for Brooklyn, told Commercial Observer. "They are mini-cities on their own. The concentrated buildings in Dumbo are interconnected. There is also a relative advantage of being in a vibrant area like Dumbo. These tech companies can really knit themselves into Brooklyn. It's like California but done in a Brooklyn way."
| | |
| --- | --- |
| "When you get something the size of what Etsy is doing in Dumbo Heights, it changes the central mass." | |
Dumbo Heights contains a total of 1.2 million square feet, including 80,000 square feet of ground-floor retail space. "Our vision was of a perfect campus where we could create a tech campus in the mecca of the Brooklyn tech triangle," Mr. Abehsera said while taking Commercial Observer on a recent tour of the properties. "One of the themes we saw was unrivaled connectivity."
The literal wireless connection was meticulously planned and executed. The campus will have Platinum Wired Certification and Dark Fiber, a high-speed Internet connection. "We hired a third party company to help and began planning out a program," Mr. Abehsera said during the tour. "We want to provide an undisturbed and uninterrupted process in terms of bandwidth speed. We are bringing that in and providing it to tenants campus-wide, including on the common roof deck."
The connectivity theme also extends to the physical space. While California tech campuses and many of the industry's urban office buildings house amenities like cafeterias and gyms internally, Dumbo Heights will use the ground-floor retail space to station them.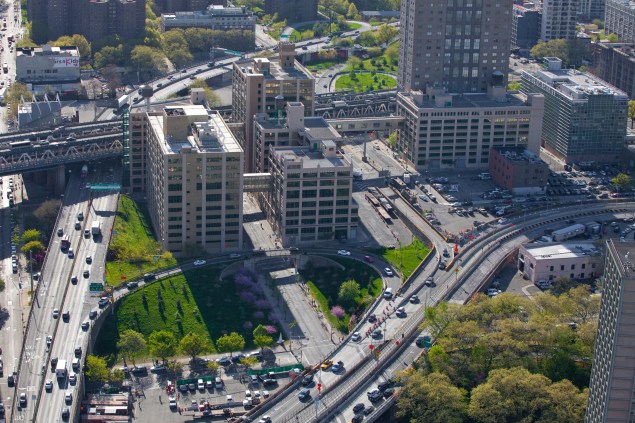 The first-floor retailers of Dumbo Heights are being curated with great care. In a phone interview, Mr. Kushner said, "The biggest thing is the retail program. We would try to get retailers at lower rents—retailers who are in line with the cultural values of the office users there. We didn't want companies to be insular. We wanted them to feel like part of a community." Mr. Abehsera elaborated: "We see the retail as an amenity to [the tenants and workers] above. We are looking to curate the retail with Brooklyn purveyors."
Dumbo Heights' retail rents start at around $60 per square foot. Comparatively, Manhattan retail rents average $139 per square foot, according to the Real Estate Board of New York's spring 2014 retail report.
Jeffery Sussman, the president of Property Group Partners, which has been looking to expand technology hubs across East Coast cities, believes these low rents will be instrumental to the success of the campus. "[The] Watchtower [project] is going to attract people, not necessarily because it is well known, but because big new users in the business will want to be part of it," he said. "It is very competitive rate-wise. It is a convenient location and it is a convenient neighborhood." Thus far, Mr. Sussman's prediction has come true. Mr. Kushner said he has found a "huge demand from [retail and office] tenants," with more than 150 inquiries from commercial tenants seeking less than 20,000 square feet at Dumbo Heights. He added: "We also have some big users who are looking for 50,000 to 150,000 and one over 250,000 square feet."
While the inquiries have been pouring in, Dumbo Heights has publicly announced—in May—only its anchor tenant, Etsy, which inked a 200,000-square-foot, 10-year lease. Etsy was born in Brooklyn. The innovative company allows crafters and artisans around the world to sell their wares online, taking just a small cut of the profits. The company's creative spirit is reflected in its offices, which are open spaces full of art that allow for collaborative thinking. Etsy also hosts community programs, such as craft nights, to perpetuate its mission.
Etsy is committed to Dumbo Heights for the long haul and Mr. Abehsera noted that the lease includes expansion rights. "Thoughtfulness went into the variables that could mean explosive growth [for Etsy] in the future," he said. Etsy is acting more like a partner than a tenant and setting the tone for the campus as a whole. Dumbo Heights needed a tech giant, and Etsy needed a large space, by Brooklyn standards, in which to grow.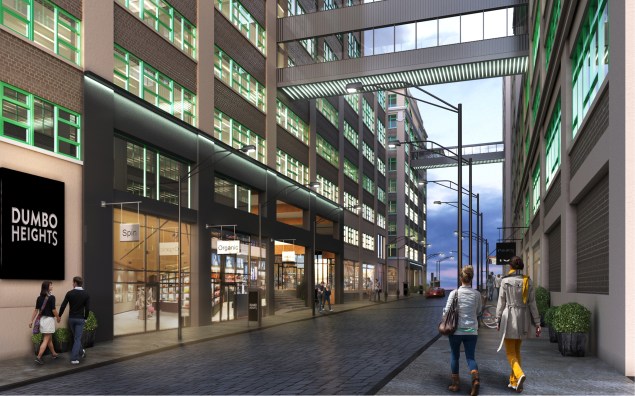 Just as Etsy started to outgrow its offices at 55 Washington in Dumbo, Etsy CFO Kristina Salen heard about the Watchtower purchase. She reached out to Mr. Kushner's brother, Josh Kushner, who's involved with tech companies via the angel-investing fund he runs, Thrive Capital. He spoke to Ms. Salen about Dumbo Heights and put her in touch with Jared.
"We were in an active property search and evaluation for a long time," Josh Wise, Etsy's director of facilities, said. "We were out, engaged and looking at everything you can think of. Just [considering] square footage and opportunities for laying out the kind of space we wanted to lay out, it narrowed the field fairly quickly." As it was started in a Fort Greene apartment, Etsy was dead set on keeping its headquarters in Brooklyn. When Dumbo Heights presented up to 1.2 million square feet, Etsy jumped at the opportunity to take an entire building—117 Adams.
Dumbo Heights offered Etsy something else other Brooklyn properties could not: a ground-floor presence and direct connection to the local community. "We wanted to have Etsy signage people could see," said Sara Cohen, a senior manager of communications for the company. "We are a consumer brand, but an online business. Having a distinct presence and signage will give us a larger presence in our community."
Mr. Wise confirmed that Etsy will have a small ground-floor retail space, though the details of the first permanent brick and mortar location are still being worked out.
Dumbo Heights developers have encouraged Etsy to speak up in the retailer selection process.
"In an effort to be a good citizen of the neighborhood and the complex, a lot of our conversations have been about what we could put in the retail spaces that can service the community and our employees," said Mr. Wise. "We talked about daycare. We talked a lot about bike parking, which will be an enormous asset to the complex.
"Good food options from providers who are local, transparent in their sources and responsible in their practices, who deliver excellent food [are paramount]. There are a few basic things that are always in the conversation: food, coffee, some sort of market to get produce, groceries. Those things would be very valuable and would serve the larger complex and the neighborhood as well."
Out of Etsy's input have come lengthy conversations about everything from yoga to iced lattes. Mr. Abehsera noted with bemused delight that he recently had a 30-minute conversation with Mr. Kushner solely about different brands of coffee as they tried to select the most appropriate shop to caffeinate the campus.
While selecting a location based on impact to the neighborhood and company history was vital to Etsy, they also received a generous tax incentive for moving into the space. Empire State Development will offer Etsy up to $5 million in performance-based Excelsior tax credits if it fulfills job growth and investment expectations. Dumbo Heights developers also receive an incentive under the Industrial and Commercial Abatement Program, a tax abatement developers receive for converting manufacturing spaces into offices.
Historically speaking, Dumbo is the natural location for the epicenter of today's Silicon Alley. "Dumbo was a place of early industry, going back to the early 19th century when there were rope makers on the water. In the late 19th century, Dumbo began to become the manufacturing center. In the 20th century, development follows," explained Julie Golia, the director of public history at the Brooklyn Historical Society.
While it may be the most logical location in New York, and certainly on par with the amenities of Silicon Valley campuses, there is still a cultural rift that affects the future of the tech industry in New York. Kevin Roose, a writer for New York magazine told Commercial Observer: "Being top dog, culturally, matters. If you are in San Francisco or Silicon Valley and a programmer, you are at the top of the social order. But in New York, tech guys and engineers are one step below Wall Street guys. Not that it should be that way, but if you want to feel like you have achieved something socially, San Francisco is where to be."
While Dumbo Heights cannot singlehandedly resolve this cultural dynamic, it will create a 1.2-million-square-foot environment in which tech engineers are top dog. Finance may always rank supreme in Manhattan, but a massive tech campus in the center of the Tech Triangle will likely create a new Brooklyn pecking order.
Brokers and city planning advocates expressed the upside of the deal.
As the city of New York pushes to add affordable housing en masse, Brooklyn city planner Ms. Kapur says the affordable housing push goes hand-in-hand with this development. "I believe they mutually reinforce one another. Many of the people who work in these industries like to be able to walk to work. There is a big synergy between Williamsburg and Dumbo. A lot of people working in Dumbo will want to live in the surrounding neighborhoods. As for affordable housing, I think the two complement one another. We want to allow for neighborhoods where people can live close to where they work."
Stephen Palmese, a senior executive vice president of sales for Massey Knakal Realty Services and Brooklyn native who specializes in Dumbo properties, concurred: "Fifty to seventy five percent of people who work nearby, live nearby."
Broker Geoff Bailey, a Brooklyn specialist at SCG Retail, believes this will help solidify Dumbo as a tech force to be reckoned with.
"When you get something the size of what Etsy is doing in Dumbo Heights, it changes the central mass," Mr. Bailey said. "It's a huge deal. When a tech firm of that size comes in, even if it's just a move up the hill, it really puts Dumbo much more on the map and boosts the Tech Triangle. There have been technology firms coming in, but with Etsy signing, it gives a reason for smaller and larger tech firms to be there. You have the talent and know-how in a tight geographic region."
Ms. Golia recounted how Dumbo got stuck with such an unattractive acronym for "Down Under the Manhattan Bridge Overpass." "You would think the name Dumbo would be given by the real estate developers, but it was supposedly by the artists who lived there who thought it was such an ugly, clunky name that it would keep developers away." With the massive Dumbo Heights in the works and companies signing on rapidly, it's clearer than ever that those artists' cries went unheeded.
During Commercial Observer's visit to the neighborhood, a barista at a local coffee shop was, in fact, frustrated the development was not moving more quickly. He was eager for the tips of under caffeinated engineers.
"I need them to move in," the barista said, declining to provide his name. "Tips always get better when we get something new around here. Locals don't really come in here. It's pretty expensive, even more than Starbucks, so I hope that tech campus gets built real quick. I want those tips."