CVS Signs for Ground Floor at the New School's University Center
---
---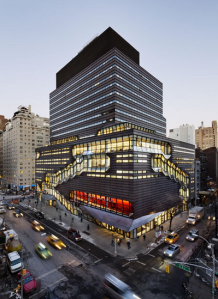 Drug store giant CVS/pharmacy has signed a lease for 9,000 square feet of retail space for as long as 25 years on the ground floor of the New School's University Center, the school announced this morning.
A 24-hour pharmacy will open in September with LED lighting, local construction materials and window displays by students from Parsons design school, according to the press release.
"CVS was chosen as a tenant because of the valuable services it provides, and because of its commitment to public health, sustainability and community outreach—values it shares with the New School," said Sam Biederman, director of communications at the institution, in a prepared statement.
Newmark Grubb Knight Frank's retail group represented the school in the lease negotiations for the property one block west of Union Square at 2 West 14th Street, Mr. Biederman said. The deal calls for a 15-year lease, with two possible five-year extensions.
The New School opened University Center—a 375,000-square-foot building with a 600-bed undergraduate dormitory, an 800-seat auditorium and studio and classroom space—in January.
The Rhode Island-based drug store chain is the largest pharmacy in the country, with around 200,000 employees in more than 45 states, according to the firm's website.
Mr. Biederman declined to disclose the rent rates or the names of the brokers for the academic institution or that of CVS Caremark, the parent company of CVS/pharmacy. A press representative for NGKF didn't respond to a request for the information and a spokesman for CVS Caremark said the firm doesn't discuss terms and conditions.
The average asking rent for Fifth Avenue between 14th and 23rd Streets declined 6 percent to $388 per square foot in the past year, according to the latest data from the Real Estate Board of New York.