Brownstoner and Partners Open Renovated 1000 Dean Street [Updated]
---
---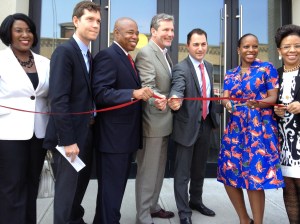 Brownstoner Media, BFC Partners and the Goldman Sachs urban investment group opened a 150,000-square-foot gut renovated office warehouse at a ribbon cutting ceremony at 1000 Dean Street in Crown Heights this morning.
The roughly $19 million facelift at the four-story former storage facility at an old Studebaker service station has flipped a building Brownstoner founder Jonathan Butler says he and his backers purchased for $11 million in March 2012, as Commercial Observer reported in February.
"One thousand Dean has been transformed from a lifeless storage facility into a small business hub with scores of small businesses and hundreds of workers," said Mr. Butler, who first noticed the building on a bike ride three years ago. "The project has jump-started investment activity in the surrounding blocks, activity that will broaden the tax base and expand economic activities."
The building has 29 tenants already, with space for about 70 more in areas varying from 500 to 40,000 square feet. Brownstoner will be moving into a shared area on the top floor overlooking the media company's 9,000-square-foot restaurant, Berg'n, which Mr. Butler says will start serving up brews picked by a Brooklyn Brewery brew master and food from Smorgasburg within a month in an area where three dozen new businesses have opened in recent years.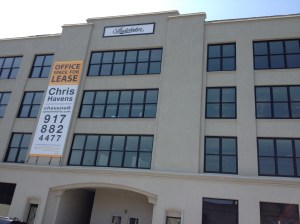 "We took a walk around the block and we thought this was an interesting opportunity," said BFC Partners principal Don Capoccia, who Goldman Sachs contacted about the potential investment three years ago. "We didn't even recognize a neighborhood we had spent an extraordinary amount of time in. That's how much this neighborhood has changed."
The building owners secured a $25 million federal "new markets" tax credit with assistance from the city's Economic Development Corporation and financing from Goldman Sachs, Waveland Ventures and United Fund Advisors.
"This building is a reflection of Brooklyn's past and Brooklyn's future," said Borough President Eric Adams. "If we don't embody the concept of 'build baby build,' we're going to be left behind."
Christopher Havens of aptsandlofts.com, the building's leasing agent, says asking rents at the property run from the teens to $32 per square foot, depending on the space, and both a 40,000-square-foot space formerly slated for 3rd Ward's food incubator and an 8,000-square-foot loading dock area are still available.
Erik Rimalovski moved his four-person staff at printing company R. Hochman Papers into a 1,700-square-foot room on the third floor this past weekend after 25 years in Great Neck. The small firm, which makes wrapping paper and packaging, shares the space with an architecture company.
"It's much easier to commute here than it was to go out to Long Island," said Mr. Rimalovski, who now lives only a 15-minute walk from work. "We'll have synergies here."
Update: This story was edited to reflect the approximate price of the renovation itself and the range of rents in the available space at the property.