With HQ on the Market, BNY Mellon Eyes Brookfield Place and Jersey City for Move
---
---
With its Wall Street headquarters on the market for sale, Bank of New York Mellon has narrowed its options for relocation down to 225 Liberty Street at Brookfield Place and 70 Hudson Street in Jersey City, Bloomberg News reported.
In the event of the sale of its 1 Wall Street headquarters, BNY Mellon is expected to move at least 850 of the 1,700 employees based at that location to a new office. The remainder will move to the company's existing offices at 101 Barclay Street, according to the report.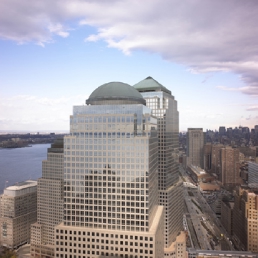 Late last year, the bank hired CBRE (CBRE) to market its headquarters for sale. The building could command bids as high as $600 million, according to Bloomberg, citing the potential to convert the building's upper floors into residential condominiums.
The governments of New York and New Jersey are assembling benefits packages to influence BNY Mellon's decision, a source told Bloomberg. The bank has not ruled out alternatives to Brookfield Place and the New Jersey waterfront, the source noted.
"They're playing the New Jersey thing off of New York right now, trying to get some reasonable level of incentives," Peter Hennessy, president of the New York tri-state region for brokerage Cassidy Turley, told Bloomberg. "It's important for New York to retain the stature of downtown as one of the key financial markets in the world."
Cassidy Turley is not involved in the lease negotiations.