Retail Sector Employment Picks Up Speed
---
---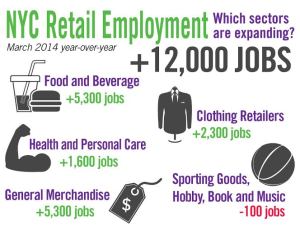 The International Council of Shopping Centers (ICSC) holds its major national event in Las Vegas every year, an event where retail vendors and real estate professionals meet to talk about potential partnerships. And with retail out of recovery mode and into expansion mode in many major cities throughout the country, New York is sure to be a focal point for many attendees.
Through March of this year, employment growth in the retail sector has been stellar compared to 12 months prior. At 341,500 jobs, it marks the highest number of retail positions in New York City in the month of March in recorded history and surpassed last year's historic high by 12,200 retail jobs (not seasonally adjusted). In addition, New York City retail has fully recovered from the recession with the creation of 58,800 retail jobs since it technically ended in 2009.
With retail sales booming and stores opening throughout New York, let's take a look at some of the industries within the retail sector that were the most active hirers year over year through March. Food and beverage retailers added the most employees with 5,300 jobs created, accounting for 43 percent of the new retail jobs. Grocery stores are a part of this industry and added more than half of the jobs in the sector, with 3,800.
Clothing retailers created the second most jobs in the past year through March with 2,300 new jobs. Health and personal care stores expanded, with 1,600 jobs added to the work force as gyms and yoga studios continue to pop up all over town. Another sector to add a significant number of jobs is general merchandise stores, with 1,300 new jobs. More than half of these jobs were created within department stores. The only industry to record a loss of jobs was the sporting goods, hobby, book and music stores, which lost 100 jobs.