REBNY Bestows 'Ingenious Deal' Awards
---
---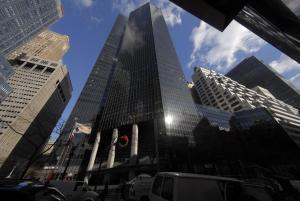 It was a veritable who's who of New York City commercial real estate at the Real Estate Board of New York's "Most Ingenious Deal of the Year Awards" last night.
The awards for deals done in 2013 were presented at the 70th sales brokers committee cocktail party at Club 101, at 101 Park Avenue. Woody Heller, an executive managing director and group head of the capital transactions group of Studley in New York, MC'd the event.
Mary Ann Tighe and Gregory Tosko of CBRE won the first place Henry Hart Rice Award for "Jumpstarting the Future: Coach Buys in to Hudson Yards." The duo negotiated luxury leather goods maker Coach's purchase of its new headquarters, the 737,000-square-foot office condo at Hudson Yards. This was Ms. Tighe's seventh "Ingenious Deal of the Year Award" and Mr. Tosko's sixth.
David A. Green of Cushman & Wakefield nabbed the second place Robert T. Lawrence Award for "The Improbable Master Lease of the Retail Spaces at 650 Fifth Avenue." The entire space was leased to a joint venture between SL Green Realty Corp. and Jeff Sutton.
M. Myers Mermel and Caroline McLain of TenantWise scored the third place Edward S. Gordon Award for "Air Equal to Land: The Sale of Air Rights from 520 Park Avenue." They negotiated the sale of air rights from the Christ Church United Methodist to Zeckendorf Development.
Nominees were submitted in three categories: sales, leasing and financing.
"These leading brokers have proven themselves to be consummate professionals by navigating the complex nuances of the most challenging real estate transactions," said Steven Spinola, REBNY's president, in a prepared statement.