Midtown South, Downtown Q1 Leasing Anything But Average
---
---
Though Midtown had the greatest leasing activity during the first quarter thanks in part to its sheer size, both Midtown South and Downtown topped their respective five-year averages in comparatively striking fashion.
The latest data from CBRE shows that Midtown's 3.94 million square feet of leasing activity led the pack, but it topped its five-year quarterly average of 3.72 million square feet by just 6%.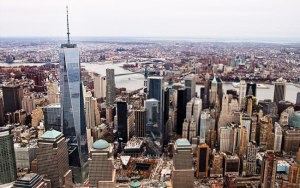 Meanwhile, Midtown South's 1.66 million square feet of activity was 50% higher than its five-year quarterly average – the highest total since Q4 2001. And Downtown's 1.62 million square feet of leasing marked the 12th consecutive quarter that it surpassed its five-year average – this time by 44 percent.
Midtown South also outperformed Midtown's 379,000 square feet of negative absorption, logging 497,000 square feet into positive territory. (Downtown's absorption was negative 1.08 million square feet but largely attributed to the addition of One World Trade Center to its inventory).
Year-over-year availability and pricing improved nearly across the board. Midtown's availability rate declined to 11.9% from 12.4%, while asking rents increased 7% to $74.27 per square foot. Midtown South's availability rate declined to 9.4% percent and pricing, at $63.05, was up 5%. Downtown's average asking rents were up 4% to $48.70 per square foot, but its availability was an outlier, inching up 10 basis points to 14%.
New York & Company's nearly 180,000-square-foot deal at 330 West 34th Street was the top deal of the quarter.