Landmarks Denies Developer's Upper East Side Demolition Plans
---
---
The New York City Landmarks Preservation Commission has voted unanimously to deny the Stahl Organization's request to demolish landmarked low-income housing on the Upper East Side.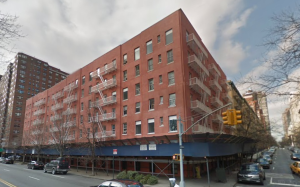 The "hardship application" filed by the owner of the properties would have enabled the demolition of two landmarked buildings – at 429 East 64th Street and 430 East 65th Street – located within one of the city's oldest housing developments for the city's working poor.
The buildings have a total of 190 rent-regulated units, 110 of which have been kept vacant by the owner as part of an effort to redevelop the properties, according to not-for-profit Friends of the Upper East Side Historic Districts, which issued a statement praising the LPC's vote.
Tara Kelly, executive director of FRIENDS, called the vote a "victory for affordable housing, for historic preservation, and, ultimately, for all of New York City."
The "hardship application" was based on grounds that the properties do not generate a six percent profit and that a $4.5 million renovation would only achieve average rents of $600 per unit, which according to FRIENDS and Ms. Kelly amounted only to "outrageous claims."
A report by HR&A Advisors "thoroughly analyzed rents for similar apartments in the area and showed that the units could easily rent for $1,500 per month," according to the organization.
But a spokesperson for the Stahl Organization said the decision is "wholly erroneous" and will be challenged in court.
"We will pursue further legal remedies, and are confident that this erroneous decision will be overturned," he wrote in an email. "Assumptions about vacancy and collection loss, capital investment, operating expenses, and the likely level of real estate taxes all factor into a calculation of returns. We think that these assumptions, plus the expert opinions relied upon by the LPC, are wholly erroneous and entirely misleading."