Four Leases Signed at 360 Lexington Avenue
---
---
An expansion deal for Analytics Partners is among a set of four leases recently signed at AEW Capital Management's 360 Lexington Avenue, Commercial Observer has learned. The marketing consulting firm, which previously occupied space on the building's 17th floor, has signed a four-year lease for 4,739 square feet on the 16th floor.
The lease was announced concurrently with a 4,225-square-foot deal for ACCIÓ, the Agency for Competitiveness for Companies in Catalonia, and a 4,218-square-foot lease for Corporate Risk Solutions. The tenant in the fourth deal, an electrical contractor, signed a a 7,986-square-foot lease on the sixth floor and declined to be identified.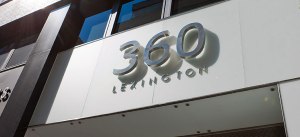 "The building changed hands a fair amount before it ended up with its current owner in 2008 and they're long-term holders," said David Hoffman, an executive management director and principal at Cassidy Turley, who represented the landlord. "The owner was very proactive about planning for, and executing on, capital improvements."
Since acquiring the building, AEW Capital management has installed a brand new lobby at 360 Lexington Avenue, changed the retail signage around the perimeter of the ground floor, and installed brand new air-conditioning equipment.
In addition to the four recent deals, the landlord representation is actively negotiating six other leases. Asking rent for the building's tower floors is $58 per square foot.
Mr. Hoffman, Robert Billingsley and Whitnee Williams of Cassidy Turley represented the landlord in all four transactions. Stephen Steiner and Ira Schuman of Studley represented ACCIÓ in the tenant's five-year deal. Corporate Risk Solutions' five-year deal was negotiated by Michael Doetsch of Coldwell Banker Commercial Alliance and Gere Ricker of MB Real Estate.