Doctoroff Honors REBNY Members at Awards Ceremony
---
---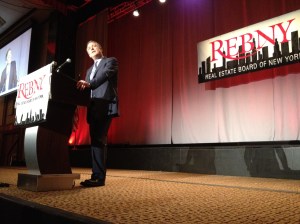 Bloomberg LP CEO Dan Doctoroff preached the gospel of growth as he honored 10 award winners this morning at the Real Estate Board of New York's annual commercial management leadership breakfast.
The former Bloomberg administration deputy mayor stressed the vital importance of commercial real estate to the city's economy as he called for strengthening the "virtuous cycle" of prosperity ushered in by industry leaders following the recent recession.
"What you do is ensure that growth," said Mr. Doctoroff during his keynote speech at the Hilton New York in Midtown Manhattan. "And, at the end of the day, we have to remember that it is growth that it's all about."
Citing the growth in the city's budget from $40 billion to $70 billion over the past 12 years, Mr. Doctoroff reminded the 77-table audience of real estate executives, union leaders and building workers that more buildings mean more revenues for the city and more services for city residents. And while he briefly praised current Mayor Bill de Blasio's housing plan, Mr. Doctoroff highlighted catalysts like Mayor Bloomberg's PlaNYC 2030 and the draw of the city as essential to the city's economic well-being.
"New York does not exist in a vacuum," said Mr. Doctoroff. "Like a company, we face competition from all over the world." But, he added, "This is the only place where no matter what you look like, no matter what you wear, people assume you're from here."
Mr. Doctoroff spoke after REBNY gave out framed certificates to each award winner, a ceremonial American flag to emcee and 30-year Marine reservist Michael Norton of Tishman Speyer and a plaque for commercial management executive of the year Frank Freda of Cushman & Wakefield. REBNY doled out recognition for everything from engine rooms and porter of the year to engineering and portfolio upkeep.
"This award means a lot to me because I've been doing this for 16 years," said Leslie Madhoo, one of three awardees from the Paramount Group who works as assistant of security at 1633 Broadway. "And this company I work for, they really take care of me and my family."