Cushman & Wakefield Hires Three NYPD Veterans to Back Ray Kelly
---
---
Cushman & Wakefield has hired three NYPD veterans to back former commissioner Raymond Kelly in his new gig as president of the firm's new risk management services division.
Mr. Kelly said in a written statement that the new hires – Michael Farrell and Phil Pulaski, managing directors, and David Kelly, a director – bring "unparalleled expertise and experience in all areas of security, management, policy planning and implementation."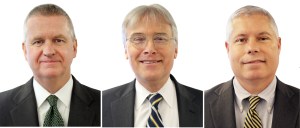 The new division, created in March with the hiring of the city's former top cop, is tasked with mitigating clients' global risks through physical and cyber security intelligence, crisis management, due diligence, site selection and emergency preparedness.
"Cushman & Wakefield formed RMS to anticipate and address the needs of global clients who are increasingly aware of the diverse and disruptive risks they face, which are geographic in scope and constantly evolving," Mr. Kelly stated.
Mr. Farrell served as deputy commissioner of strategic initiatives, responsible for research, policy analysis, program development and overseeing the department's quality assurance and auditing programs.
Mr. Pulaski most recently served as chief of detectives for the NYPD, and he previously served as deputy commissioner of operations, commanding officer of intelligence, terrorism, forensic and bomb squad divisions, as well as managing attorney of the legal bureau.
Mr. (David) Kelly (no familial relation to Ray Kelly) was previously director of security with New York law firm Sullivan & Cromwell, LLP, responsible for the identification, development, implementation and management of the firm's security strategies. He previously served as the NYPD's assistant commissioner of counterterrorism.