Could String of World Trade Center Leases Appease Critics?
---
---
Hugo Boss is reportedly in talks with the Port Authority and the Durst Organization to take tens of thousands of square feet of office space at 1 World Trade Center, the latest in a string of rumored deals that could spark a new tone of optimism across the trade center site.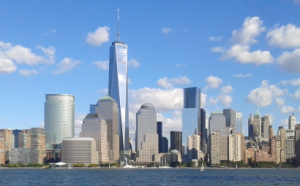 The news comes amid talk that online marketing software company Percolate is also in negotiations for 50,000 square feet at the gleaming tower. In addition, software developer MediaMath is said to be wrapping up a 120,000-square-foot lease at 4 World Trade Center, according to published reports.
A source close to the negotiations told Commercial Observer that the Hugo Boss deal is "not happening anytime soon," calling the reports of a potential 100,000-square-foot commitment a "huge exaggeration."
But the deal – even if smaller in scope – combined with a string of leases could potentially appease critics of Larry Silverstein's attempts to obtain a loan guarantee for 3 World Trade Center, where advertising company GroupM has agreed to lease about 515,000 square feet at a cost of more than $75 per square foot.
Last month a raucous debate unfolded at the PA on whether or not to help Mr. Silverstein build 3 World Trade Center, with critics citing "slow" leasing at the site as cause for concern. Kenneth Lipper, a banker on the PA's board of commissioners, lobbied against the agency's proposal to back the $2.3 billion 3WTC project with $1.2 billion in loans, delaying an anticipated vote on the financing measure.
"Say No to Silverstein," read a New York Daily News editorial against the funding last month, and New York Times op-ed columnist Joe Nocera argued against the funding as well, noting that "only 55 percent" of 1 World Trade Center and "only 60 percent" of 4 World Trade Center had so far been leased.
But backers of the financing have cited the GroupM lease — and pointed the significant rent role on the buildings' ground leases — as support for the move to assist Mr. Silverstein, who took control of the World Trade Center complex just weeks before the September 11, 2001 attacks.
In addition, Condé Nast added 140,000 square feet to its original 1.05 million square-foot commitment at 1WTC in 2012, when the US General Services Administration also signed for 270,104 square feet. China's Beijing Vantone's commitment brought the tower to the 55 percent-leased mark.
1 World Trade Center
,
3 World Trade Center
,
4 World Trade Center
,
Durst Organization
,
GroupM
,
Hugo Boss
,
Joe Nocera
,
Kenneth Lipper
,
Larry Silverstein
,
Percolate
,
Port Authority of New York & New Jersey