Acadia Realty Trust Acquires Soho Retail Condo
---
---
Acadia Realty Trust has acquired the retail condominium space at at 152-154 Spring Street in Soho. The real estate investment trust converted an existing $38 million first mortgage loan into an equity investment through the exercise of a purchase option, according to the company's quarter operating results.
The acquisition consists of 2,900 square feet of retail space currently occupied by Kate Spade Saturday.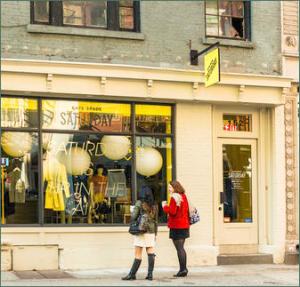 City records show the seller is Waterbridge Capital, a real estate investment firm. Waterbridge acquired the properties at 152-154 Spring Street in January of last year for $30 million, according to The Wall Street Journal. The purchase price included the cost of buying out the leases of tenants Boom and the Body Shop.
As part of the deal, Acadia Realty Trust sold a 10 percent interest to an unnamed, unaffiliated venture partner, according the first quarter operating results announcement. The REIT retains a 90 percent ownership stake.
Acadia Realty Trust did not return a call seeking comment on the deal. Waterbridge Capital declined to comment.