The Yard Brings 157 Columbus Avenue to Full Occupancy
---
---
The Yard has signed a long-term lease at The Brodsky Organization's 157 Columbus Avenue, bringing the building to full occupancy after a renovation first reported in Commercial Observer paved the way.
The coworking space provider will occupy 28,638 square feet on the entire fourth and fifth floors, and the lease follows four tenants that recently completed transactions that followed the renovation: Fusion Learning leased 14,319 square feet, CrossFit leased 11,116 square feet, Citi Habitats leased 8,335 square feet and Quinlan Development leased 5,984 square feet.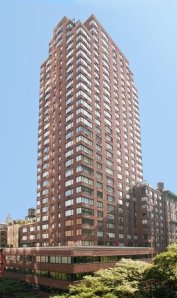 "We've received an overwhelmingly positive response following the modernization of this property, which offers tenants sizeable open floor plates in a sought-after location," said Alexander Brodsky, a principal of The Brodsky Organization, in a statement released today. "The successful positioning by Cushman & Wakefield has helped establish a diverse tenant roster that expands the live/work environment in this neighborhood and presents the community with convenient services."
The building, located on the northeast corner of 67th Street, was outfitted with a new lobby, elevator cabs, bathrooms, and upgraded building infrastructure in October and reintroduced into the market for the first time since it was built in 1983.
Colliers International's David Kaplansky represented the tenant, while Cushman & Wakefield's  Josh Kuriloff, Jodi Roberts and Drew Braver represented The Brodsky Organization as exclusive leasing agents.
"We completed the renovation and repositioning in the fall and in a matter of nearly five months, we worked with a great ownership team to bring the building to full occupancy," Mr. Kuriloff said. "The building boasts a fantastic tenant roster, which [is] all attracted to the high-quality space offered in this great Upper West Side neighborhood."
Reports that The Yard might take the space surfaced in February.
157 Columbus Avenue
,
Alexander Brodsky
,
Brodsky Organization
,
Citi Habitats
,
CrossFit
,
Cushman & Wakefield
,
Drew Braver
,
Fusion Learning
,
Jodi Roberts
,
Josh Kuriloff
,
Quinlan Development
,
The Yard